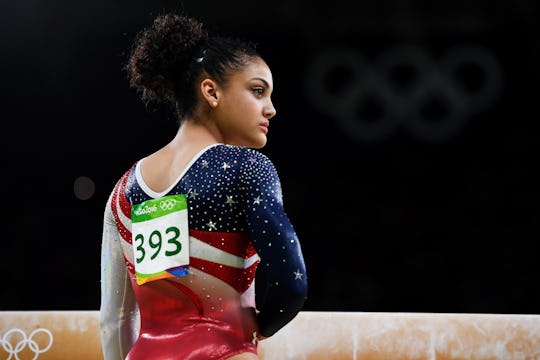 Laurence Griffiths/Getty Images Sport/Getty Images
Why Isn't Laurie Hernandez In The Olympic Gymnastics All-Arounds In Rio? America Is Bummed
Sixteen-year-old Team USA Olympic gymnast Laurie Hernandez was touted at the athlete to watch at this year's Summer Olympics in Rio de Janiero, Brazil. And yet, no one will be watching her during the women's all around finals on Thursday. So, what happened? Why isn't Laurie Hernandez in the Olympic gymnastics all-arounds? In a sport where even hundredths of a point matter, it wasn't a matter of scores — Hernandez has been slaying it at her Olympic debut. Unfortunately, it has all came down to a controversial decision from a member of her own team.
Marta Karolyi, the coordinator for the U.S. national gymnastics team, made the decision to pull Hernandez from the all-arounds finals. Speaking to USA Today, Karolyi said, "Always we have to take tough decisions, unfortunately." Karolyi said Hernandez had pulled an abdominal muscle that threatened her performance on the uneven bars. "If I looked at the two girls, Aly showed more difficulty in her gymnastics and she was in her very best shape. It came down to that event." With one slot left for the all-arounds, that decision came down to Hernandez and fellow teammate Aly Raisman, who won the gold for the floor exercise and balance beam, as well as a team gold, at the 2012 London Olympics — and Raisman was ultimately selected.
On Sunday, Raisman and Simone Biles officially qualified for the women's all-around finals. Karolyi's decision is not without controversy. Hernandez herself took to Twitter last Friday to deny that she had suffered any injury — but then she never provided any further details as to why she wasn't competing in the women's all-around finals. If anything, her tweet from Friday is an anomaly in an otherwise perky, optimistic Twitter feed:
Like a true professional, Hernandez seems to be taking the decision in stride — Friday's tweet aside. On Thursday, she tweeted the following picture cheering on teammates Raisman and Biles as they headed to Arena Olímpica do Rio for the women's all-around finals:
America had high hopes for Hernandez — as I'm sure her coach, her teammates, and even Hernandez herself had — going into the Olympics. Hernandez made history by being the first Puerto Rican on Team USA at the Olympics. She had only been competing on the elite circuit for just nine months before making her Olympic debut. And yet, Hernandez was forced to sit out on the sidelines on Rio.
While it's true that not every gymnast on a given team can compete in the finals, Hernandez certainly won't be going home empty handed. On Monday, Hernandez earned her first gold medal in the women's gymnastics team all-around, taking the podium with her teammates, dubbed "The Final Five."
Hernandez shouldn't be disappointed about her performance at the Rio Olympics. And at just 16-years-old, she's got a long career and plenty of Olympic games ahead of her.