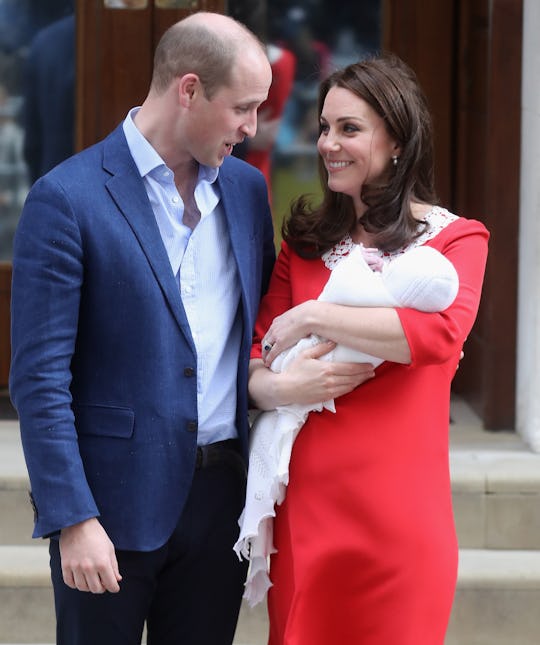 Chris Jackson/Getty Images Entertainment/Getty Images
There's One Royal Family Member Who Straight Up *Skipped* The Royal Wedding
It seems like anyone who is anyone has turned out for Prince Harry and Meghan Markle's wedding. But there are some very important faces missing in the crowd, like the newest little member of the family. So why isn't Prince Louis at the royal wedding? Did he have something better to do?
To be fair, he definitely wasn't expected to show up. Life is hard, and the little guy just got here last month. Infants are really only able to do a few things, and one of them involves ear-piercing shrieking and sobbing. If I were Markle, no matter how kindhearted I was, I would not want Baby Louis in the the chapel either. But it's not just because babies are noisy and need a diaper change every other minute. It's also not all that safe for him to be there.
Since he was born on April 23, Prince Louis is just at the four-week mark. Most pediatricians recommend not taking a newborn out to busy, bustling, crowded places at so young an age. Town & Country recently spoke with a pediatrician from New York about the matter, who cautioned that one month could be just a little early for a baby to attend such a big affair. "In truth a newborn baby could go on a plane or be out in public even the day after they're born. We prefer though, that they not for the first two months because the worry is they're going to get sick," Dr. Robin Jacobson explained to the outlet. "Going to a wedding probably wouldn't be the greatest thing to do when a baby is just born."
So in order to protect his immune system, it's probably for the best that Louis just sits this one out. The international party going on at the royal wedding might be just a little too much for the little guy, especially since you just know everyone would want to get a look at him. (I mean, could you blame them?)
So it's not like Prince Louis didn't get an invite. It's really just for his own good that he's not in attendance. Anyway, the Duke and Duchess of Cambridge, Prince William and Kate Middleton, already have their hands full with Prince George and Princess Charlotte. Both of their children are in the wedding — George is a page boy, carrying Markle's train and Charlotte is one of her flower girls. Making sure that those two are in check already looks hard enough, especially as they fulfill their own responsibilities at the wedding as well.
Louis is likely at home with his nanny, Maria Teresa Turrion Borrallo, according to historian Marlene Koenig, who spoke with Harper's Bazaar earlier this month. She added, "No one brings a newborn to a wedding, especially a royal wedding." Borallo's been with the family since George was eight-months-old and has cared for Charlotte, too. She was the woman you might have noticed in pictures of Pippa Middleton's wedding last year, trying to keep up with George and Charlotte. The woman needs a break — so hopefully she's getting a relaxing night with a newborn... what could be more relaxing, right?
The new parents have to be absolutely exhausted — even with all of the help they have on hand. There was no need to be carrying baby Louis around all day just for the sake of a full family picture. Rest assured there will be other weddings to attend and times for Louis to strut his stuff at a later date.