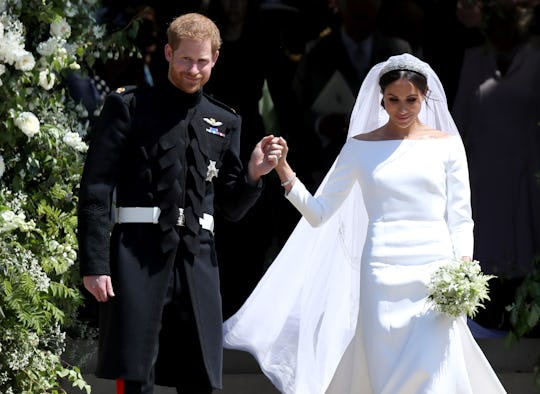 WPA Pool/Getty Images Entertainment/Getty Images
Here's Why Prince Louis Isn't In The Royal Wedding Portrait
The world watched Saturday as Meghan Markle walked down the aisle to marry Prince Harry, but just as it seemed that we had seen the last of the newly-minuted Duke and Duchess of Sussex for a while, Kensington Palace did us all of a favor and released three official wedding portraits taken of the couple at Windsor Castle. One of the three (gorgeous) photos shows Meghan and Harry photographed with the their family, according to People, as well as with their too-cute bridal party. But why isn't Prince Louis in the royal wedding portrait? Although his parents, the Duke and Duchess of Cambridge, were included in the photo, along with their two eldest children, Prince George and Princess Charlotte, anyone hoping to catch a glimpse of the 4-week-old prince was sadly left disappointed. Despite it being his uncle's much-awaited wedding day, Prince Louis remained at home at Kensington Palace with his nanny.
Prior to the royal wedding, Prince Louis' birth was definitely the most high-profile royal moment of 2018, so it makes sense that fans were hoping the youngster would make an appearance at the wedding. At the same time though, Harry and Meghan's wedding was a massive production filled with pomp, circumstance, and royal protocol. And given that bringing an infant to a wedding is stressful in general? You can't really blame Kate and William for opting to leave him at home.
Kensington Palace confirmed ahead of the royal wedding that Prince Louis wouldn't actually be at the wedding, according to Town & Country, and stress levels aside, that was probably a very good move germ-wise: New York City pediatrician Dr. Robin Jacobson told the magazine that babies should actually be kept away from large crowds for the first two months due to the risk that they could get sick.
Unfortunately though, that meant he didn't get to be included in the beautiful family portrait. The iconic photos were taken by photographer Alexi Lubomirski at Windsor Castle's green drawing room after the newlyweds returned from their 25-minute post-ceremony carriage procession. And they are pretty incredible: the first photo shared by the palace was a traditional formal wedding portrait, featuring the Queen and Prince Philip, Prince Charles and his wife, Camilla, the Duke and Duchess of Cambridge, and, of course, Meghan's mother, Doria Ragland. Bridesmaid Princess Charlotte sat on her mother's lap in the photo, while the other bridesmaids and page boys stood and sat in front. And, of course, Harry and Meghan stood in the center, looking just as perfectly in love as they had all day.
A second photo taken in the green drawing room, featured the couple along with their young bridal party, and was much more relaxed and fun (and it also let Prince George show off a cheeky smile). But it was the third photo — a black-and-white shot of the newlyweds after the ceremony — that really stood out. Not only did it have the same beautiful vibe of their picture-perfect engagement photos, but it also expertly captured just how happy the two looked to finally be husband and wife.
Though normally Harry and Meghan would be expected to soon jet off to some luxurious and private honeymoon destination, it actually won't be long before the public sees them again, on their first official royal engagement as a married couple. That's because the two have actually opted to delay their honeymoon plans in order to attend a 70th birthday patronage celebration for the Prince Charles, according to The Telegraph. Though the prince doesn't actually turn 70 until November, the outdoor event will celebrate both his military involvement, as well as his patronage in various charities over the years.
While it's unfortunate that Prince Louis missed out on the wedding — and that he likely won't be seen again until his christening — it sounds like his aunt and uncle will soon have the chance to spend plenty of time with their infant nephew. Harry and Meghan are said to be moving into Kensington Palace's 21-room Apartment 1 now that they are married, which is actually connected to the Cambridges' official residence, Apartment 1a, by an adjoining door.
Of course, as much as including Prince Louis in the official portraits may have been adorable, his parents likely needed a chance to enjoy a night out as well. Though given the amount of time she would have spent away from her son, I can't help but wonder if that also meant Kate would have had to ensure Windsor Castle had a private spot where she could hook herself up to her royal breast pump? After all, she may be a duchess, but the demands of breastfeeding wait for no one.