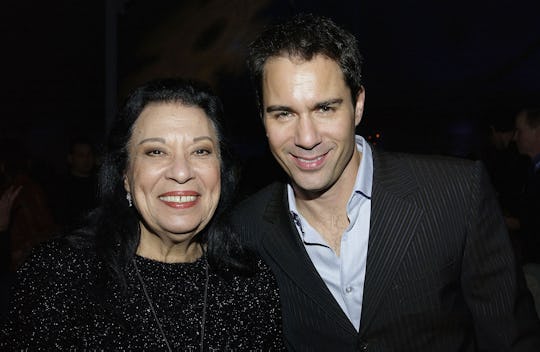 Amanda Edwards/Getty Images Entertainment/Getty Images
A Fan Favorite Character Will Be Missing From The 'Will & Grace' Revival
Well friends, the Will & Grace reboot is finally upon us, and while I'm very much looking forward to getting myself reacquainted with the likes of Will Truman, Grace Adler, Karen Walker, and Jack McFarland, there is one important character — a certain hilarious maid, to be exact — who won't be coming back for any of the fun. So why isn't Rosario in the Will & Grace revival? The actress, Shelley Morrison, who played the beloved character back during the original's heyday actually has a very good reason for being MIA.
Will & Grace co-creator Max Mutchnick broke the news to reporters at the show's Television Critics Association's summer press tour panel that Morrison would not be reprising her role in the new episodes, but not because she wasn't welcome back. In fact, the exact opposite was true. "Shelley has decided to retire," he shared. "It was with a heavy heart that she gave us that information and that we received it, but it is the way that it goes. It is a choice that she has made."
And while the cast and crew more than respected the decision, Mutchnick couldn't hide his disappointment since he had planned on incorporating her into the story. "We really wanted Shelley to be a part of this series, so we find ourselves having to figure that out moving forward," he added. "It was not an easy decision to make, but it's one that she made."
Obviously, fans are going to miss seeing Rosario grace their television screens with her unforgettable presence. And I have absolutely no idea how Karen is going to function without her. (Their various scenes together throughout the years was the ultimate definition of comedy.) But I can totally understand Morrison's decision. If she hadn't been invited back I would've certainly had some thoughts on the matter (loud thoughts, mind you), but since her absence is on her terms, I have to respect it — even if I will miss her terribly.
Rosario first wormed her way into our hearts when she made her very first debut to the original series back during the finale of Season 1. From there she became an iconic presence on the show, and as they say, the rest is history. She went on to make numerous appearances throughout the rest of the series and popped up in a total of 64 episodes. She also was included in the special election-centric Will & Grace video that helped to launch the revival in the first place. But alas, that will be the last we ever see of the character, unless Morrison ends up having a change of heart.
As much as I always loved the Jack and Karen dynamic, it was Karen's chemistry with Rosario that really kept me rolling on the floor with laughter. Those biting remarks gave me life and I will truly miss them during this new installment. Granted, there are still a ton of celebrity guest stars on Will & Grace to look forward to in the weeks to come, but still. Rosario would've been at the top of my list of who I would've loved to see return.
In the world of TV, I'd say a good rule of thumb is to never say never at the possibility of a special cameo appearance, but from the sounds of things, it seems as though Morrison's mind is made up. Thankfully, though, the original Will & Grace is now available for streaming on Hulu, so you can relive Rosario's magical one-liners over and over again until your heart's content.
Watch Romper's new video series, Romper's Doula Diaries:
Check out the entire Romper's Doula Diaries series and other videos on Facebook and the Bustle app across Apple TV, Roku, and Amazon Fire TV.