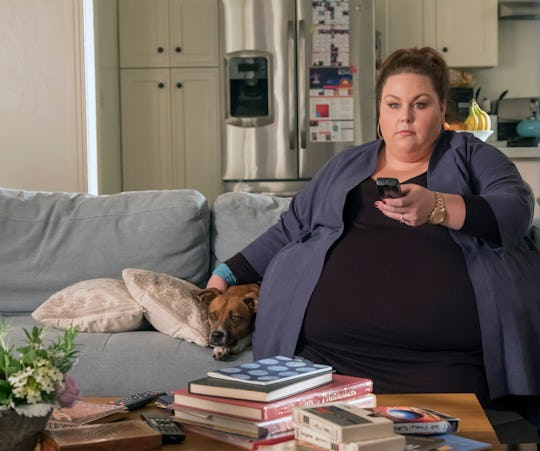 Ron Batzdorff/NBC
There's A Reason Why A New Episode Of 'This Is Us' Isn't Airing Tonight
This Is Us dropped a major bombshell on fans last week by finally revealing what caused the Pearson household to go up in flames. But while many have their suspicions, we still don't know what ultimately causes Jack's demise. The next episode promises to shed light on this question, but you'll have to wait a little longer than usual in order to see it. So why isn't This Is Us on tonight? Fans can expect to get a special episode immediately following the Super Bowl on Sunday, Feb. 4. But when it comes to this particular Tuesday night, politics take precedence.
Instead of another new episode of This Is Us, President Trump will be delivering his first State of the Union Address on NBC at 9 p.m. EST. And just in case you think your other shows will be free from interruption, the speech will also air on ABC, CBS, and FOX. Unfortunately, this means that This Is Us has to take a breather for the night, but after an intense and emotional episode (more so than usual), maybe it's for the best. Plus, at the very least, fans won't have to wait an entire two weeks for a new episode to air.
It actually lines up perfectly to premiere immediately after the Super Bowl, since we now know that Jack died on Super Bowl Sunday. Well, he may have died shortly after the day of the big game, but the fire that happened undoubtedly contributes to whatever ends up happening to him.
In the promo for the episode "Super Bowl Sunday," we're assured that all of our questions "will be answered" in what will likely be an episode of epic proportions. This is obviously a reference to finally knowing the official cause of Jack's death, why Kate blames herself for it, and what happened after the tragic event at the Pearson home. I'm basically already crying.
Everything that's happened and that's been teased in flashbacks and little present day scenes has led to the big reveal that viewers should expect during the This Is Us "Super Bowl Sunday" episode. Judging by the promo, there will be a lot of memories to the early days of Jack and Rebecca, as well as callbacks to the times when each of the adult children had a special moment with him. I definitely wouldn't call it a clipshow by any means, but it does seem like it's meant to honor the character while also answering the questions that fans have had since the beginning.
As much as it hurts to have to wait several more days for a new episode of This Is Us, it does afford us all more time to process what's coming next. Since we've all adopted Jack as our collective husband, father, and best male role model ever, it's going to be difficult (if not downright impossible) to watch him die. So in a way, you can thank Trump for the episode interruption Tuesday night.
Moving forward, we can probably expect a lot of the focus to be on how Jack's death impacted his family immediately after, rather than the present-day characters who are still dealing with the loss. "Having the understanding that these kids and this woman are going to lose a massive part of their family should be enough that whatever happens — or how it happens — should be satisfying enough. Or heartbreaking enough," Milo Ventimiglia (Jack) told Entertainment Weekly. "How do you applaud a man's death, especially a good man? People should just understand that it's coming and wait and process it when it does. Not everybody has the luxury to know that death is coming — but we all know that Jack's death is coming."
While This Is Us isn't on tonight, there is a plus side to this delay. The Super Bowl episode won't be the only This Is Us episode airing that week. On Tuesday, Feb. 6, there will be yet another new episode on during the regularly scheduled time slot. So let's just think of this extended break as a chance to mourn Jack's death before we finally see it happen and collectively sob in front of our televisions afterward.
Check out Romper's new video series, Romper's Doula Diaries:
Watch full episodes of Romper's Doula Diaries on Facebook Watch.