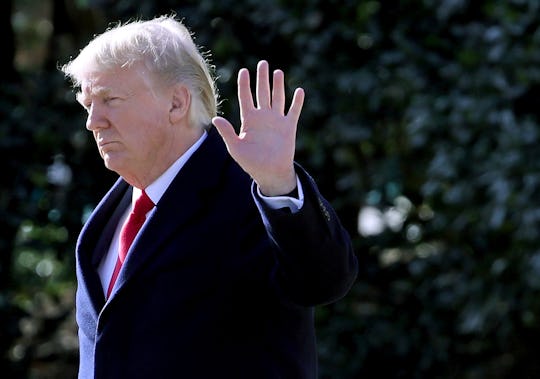 Win McNamee/Getty Images News/Getty Images
Trump's Reportedly Bucking This Super Bowl Tradition & Here's Why
On Sunday, millions of football fans will be glued to their televisions as they watch the Philadelphia Eagles take on the New England Patriots for Super Bowl LII. Wait, who am I kidding? Most people are going to tune in for the halftime show and Super Bowl commercials. But what football fans won't see is a pre-game interview with President Donald Trump, according to CNN. But why isn't Trump doing a pre-Super Bowl interview? Trump himself has yet to answer this question, but it may have something to do with friction between Trump and the press.
Romper's request for comment from the White House was not immediately returned, but a White House official told CNN on the condition of anonymity that Trump is not doing a Super Bowl interview, but didn't give an actual reason why. It's not that hard to surmise, though: NBC will broadcast the big game on Sunday and, as CNN pointed out, Trump had lobbed a few "fake news" tweets at journalists and executives at the network. Not surprising that he'd choose to stay away from NBC entirely.
Sources at NBC did affirm that the White House did turn down the network's interview, according to CNN, but the president still has an open invitation if he decides to pull a 180. (This is me holding my breath.)
Never mind the fact that Trump has bashed NFL players who take a knee during the national anthem to protest police brutality and racial injustice. As The Daily Intelligencer noted, the president would most likely have to answer for those insults during even a fluff interview with NBC — again, a network he's dubbed #fakenews — so why put himself in the position, eh?
Plus, it's not like he hasn't done a pre-Super Bowl interview previously. Trump sat down last year with Fox News' Bill O'Reilly before the big game (Fox aired Super Bowl LI), according to CNN. In fact, most of his interviews in 2017 were with Fox News, The Daily Intelligencer reported. Obviously, there's no surprise there, considering the Fox News, a uber-conservative network, is very pro-Trump.
Trump is bucking a more-than-a-decade old tradition by opting out of a pre-Super Bowl interview on Sunday. The tradition began in 2004 with President George W. Bush, who appeared on CBS before Super Bowl XXXVIII, which was being played in his home state of Texas, according to AOL. President Barack Obama continued the tradition during his first year as president, and granted one every Super Bowl during his presidency, CNN reported.
Word of a possible pre-Super Bowl interview with Trump first spread last month, when Adweek reported on supposed talks between NBC News and the White House. In an interview with Adweek, NBC Nightly News anchor Lester Holt said:
Without getting into specifics, I can tell you that there have been conversations between NBC News and the White House about a conversation format, the timing, the location, those sorts of things. We have not come to any agreement yet.
Holt seemed optimistic in his Adweek interview, telling the publication:
The president has not done a lot of interviews recently with mainstream news organizations, so obviously it would be a great opportunity, and we welcome it should it come.
While that's true, it seems the optimism was misplaced. After all, how can the talks go anywhere when you consider this one tidbit provided by Adweek: Holt interviewed Trump during his last formal TV news interview. The interview happened on May 11, 2017, two days after he fired former FBI director James Comey. So, knowing that and the president's attitude towards non-conservative press, it's really not surprising you won't see him before Super Bowl LII.
Check out Romper's new video series, Romper's Doula Diaries:
Watch full episodes of Romper's Doula Diaries on Facebook Watch.