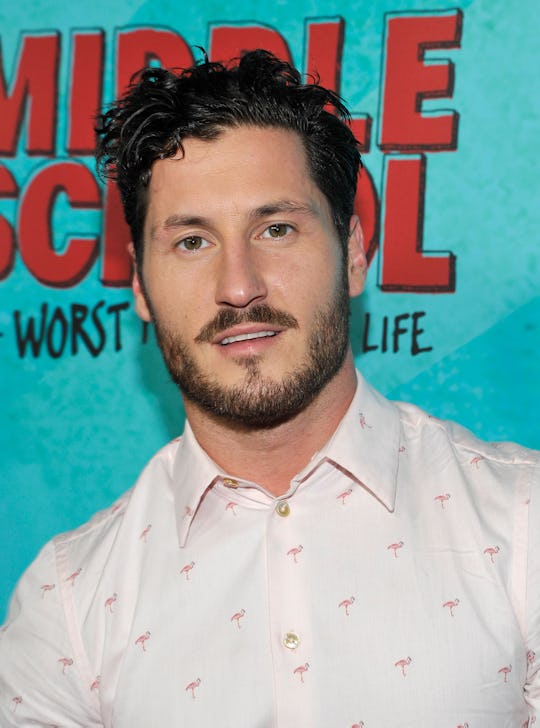 John Sciulli/Getty Images Entertainment/Getty Images
Val Chmerkovskiy Won't Be Gracing The Ballroom Of 'DWTS' This Season
There's no denying that this season of Dancing With the Stars is special. Not only is it going to be just four weeks long, but the cast of contestants are made up entirely of past and present athletes. Since there aren't as many contestants, though, the pool of pro dancers is smaller this time around, and includes the absence of Val Chmerkovskiy. So why isn't Val Chmerkovskiy on DWTS? Season 26 is going to feel strange without his positive and encouraging presence, but right now, he's focused on other aspects of his career.
Before you start to panic with the concern that he might not be back ever, that doesn't necessarily seem to be the case. However, for Season 26 of DWTS, Chmerkovskiy is busy with a couple of other big projects. Mainly, that would be his MVP Confidential tour with his brother Maks Chmerkovskiy and fellow DWTS pro Peta Murgatroyd, who's also married to his brother. It's basically a family affair about the Chmerkovskiy family, parenthood, and love and heartache. Creating the dance tour meant that Season 26 of DWTS would lose three of its arguably biggest professional dancers, but it's all in the name of Chmerkovskiy getting to work on some passion projects of his own.
While it would seem that his brother may be ready to move on from dancing on the show, in Val's case, it's probably just for Season 26, especially since he has a lot of other stuff going on for him. Not only is their Confidential tour still going strong, but he also recently released a memoir I'll Never Change My Name, so he definitely has plenty going for him outside of DWTS. And it's actually thanks in part to his experience on DWTS that this beloved pro was able to feel it was the right time to write his book.
"I've arrived at a point in my life that called for some reflection. I feel a sense of gratitude and hindsight that I can use to help others," he told People. "With this memoir I finally have my own platform outside of Dancing with the Stars, outside of being a brother, outside of the person the world has come to know through a television screen, to share my story my way."
Chmerkovskiy might be taking a break for this season, but he still has some pretty strong ties to the show that will likely bring him back for more seasons of dancing the cha-cha and teaching former child stars how to waltz. Recently, things have become serious with fellow pro Jenna Johnson and since she's still a big part of the show, I don't see why he would soon give up his spot on the show for good. He also hasn't made any official announcement about leaving DWTS other than taking the break for his tour this season.
In a recent Instagram post of the entire cast and crew of DWTS, he made it clear how much he still appreciates everything that the show has provided to his career and his life in general. "This show was never about me or any single person, as a matter of fact it's not JUST a television show at all," he wrote in the caption. "It's become somewhat of a family tradition in so many households… I'm proud of this show and every single person that makes it so, whether I am part of it or not."
Considering how much he loves DWTS, there's still a chance that he'll return next season, even if his schedule and personal goals made it impossible for him to do so this time around.
Check out Romper's new video series, Romper's Doula Diaries:
Watch full episodes of Romper's Doula Diaries on Facebook Watch.