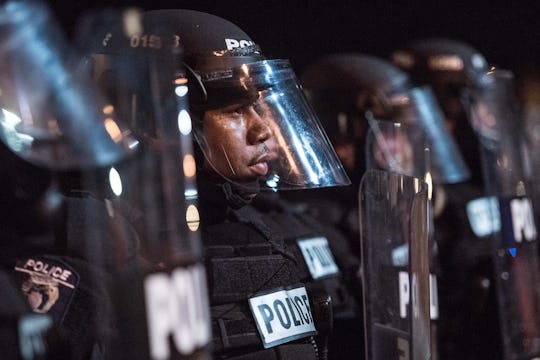 Sean Rayford/Getty Images News/Getty Images
Why Isn't Video Of Keith Scott's Shooting Available To The Public? A New Law Prohibits It
A man was shot in a case of mistaken identity in Charlotte, North Carolina, on Tuesday, according to a police report. Keith Lamont Scott, a 43-year-old black man, was fatally shot on Tuesday by Charlotte-Mecklenburg officer Brentley Vinson, who reportedly believed he was shooting a wanted man, according to The Guardian. The shooting caused another surge of protests in North Carolina, with police employing teargas to disperse the crowds of demonstrators. While the family of Scott claim he was simply in his vehicle reading a book, the police have not released video of his shooting to the public as yet.
According to The New York Times, a police spokesman did not respond when asked whether a dashboard or body camera possibly recorded the shooting. Charlotte-Mecklenburg Police Chief Kerr Putney told reporters in a news conference that Scott was armed when police approached his vehicle outside a Charlotte apartment complex. According to The Guardian, Putney said officers were on scene to deliver a warrant (although it was not made clear what the warrant was for) and mistook Scott for the man they were looking for. Putney said that Scott exited the vehicle with a firearm more than once, despite being warned by police to drop his weapon. Police reportedly shot Scott when they considered him an imminent threat.
Putney told reporters that Vinson did not have a body cam on, and that other possible dahboard cams and body cams would be reviewed. He did not offer to release any video footage, however, citing a law that North Carolina Gov. Pat McCrory signed in July which denies public access to police video footage without a judge's orders. Putney did not respond to Romper's request for comment regarding his decision, and the Charlotte-Mecklenburg Police Department also hasn't responded to requests for comment regarding the shooting.
Nut, as reporter Nick Ochsner pointed out in the above tweet, the law isn't supposed to take effect until October. Putney said he feels that releasing the video footage could have a "negative impact on the integrity of the case," according to The New York Daily News.
The police department is contending that Scott did, indeed, have a weapon and was a threat. A gun was retrieved at the location. However, family members of Scott assert that he was disabled and was merely holding a book. A woman claiming to be Scott's daughter released a video to Facebook Live from the scene of his shooting. The Scott family plans to call a news conference on Wednesday, according to The Guardian.
Meanwhile, Putney has spoken to reporters about what he says really happened in the shooting, while continuing to withhold video footage of the event, according to The Guardian.
It's time to change the narrative, because I can tell you from the facts that the story's a little bit different as to how it's been portrayed so far, especially through social media.
Charlotte Mayor Jennifer Roberts has asked the community to remain calm as local and federal investigations into the shooting continue. Protests that began after Tuesday's shooting became aggressive later in the day, with 12 officers reportedly being injured by demonstrators.
Romper obtained a statement from the office of Chief Putney regarding the shooting of Keith Scott:
These are the facts as we know them right now based on statements from witnesses and evidence gathered from the scene:
- On Tuesday, September 20, 2016, at 3:54 p.m., officers from the Metro Division Crime Reduction Unit were searching for a suspect with an outstanding warrant at The Village at College Downs.
- Officers observed a subject, Mr. Keith Lamont Scott, inside a vehicle in the apartment complex. The subject exited the vehicle armed with a handgun. Officers observed the subject get back into the vehicle at which time they began to approach the subject.
- Officers gave loud and clear verbal commands, corroborated by witnesses, for the subject to drop the weapon.
- In spite of these verbal commands, Mr. Scott exited the vehicle still armed with the handgun as officers continued to tell him to drop his weapon.
- The subject posed an imminent deadly threat to the officers and Officer Brentley Vinson subsequently fired his weapon striking the subject. The officers immediately requested Medic and began performing CPR.
- Medic responded to the scene and transported the subject to Carolinas Medical Center where he was pronounced deceased.
- Detectives recovered the firearm the subject was holding at the time of the shooting in close proximity to the subject.
- Per department protocol, the Officer Vinson will be placed on Administrative Leave.
- At approximately 7:00 p.m. on Tuesday, September 20, 2016, CMPD Officers encountered protesters following the officer involved shooting incident.
- At approximately 8:00 p.m., officers encountered the crowd transitioned from peaceful protestors to a more aggressive group of agitators as events of the night developed.
- The CMPD Civil Emergency Unit was deployed at approximately 8:30 p.m., to deescalate the situation and restore order.
- Air support from the CMPD Aviation Unit provided an overhead view of rapidly changing conditions on the ground.
- At approximately 9:00 p.m., multiple subjects began damaging police vehicles and throwing objects at officers on the scene.
- At 10:54 p.m., the CMPD Civil Emergency Unit gave a dispersal order to the group. After an additional dispersal order was ignored by demonstrators, CEU officers deployed tear gas to disperse the unruly demonstrators, who continued to throw objects and damage property.
- At approximately 1:45 a.m., an additional group of protestors gathered in both lanes of travel on Interstate 85 and started a fire. Both north and southbound lanes were shutdown. Dispersal orders were given at 3:00 a.m., tear gas was deployed and I-85 reopened at approximately 3:30 a.m.
- Despite repeated directions to stop, demonstrators attempted to push through the police line, resulting in the arrest of one person. As of today, we know of a total of 16 officers who were injured. Multiple police vehicles were damaged, as officers attempted to deescalate the situation and protect our community.
- As always, the CMPD will work to facilitate peaceful and lawful protests. However, when our officers are injured and property is being damaged, it changes the situation.