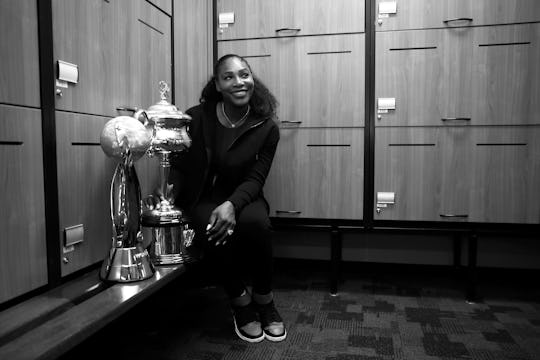 Clive Brunskill/Getty Images Sport/Getty Images
It Would Be OK If Serena Didn't Return To Tennis
There is something about our culture that seems to really thrive on definitions. Some of us want to be able to point to something (or someone) and say, this is this, or that is that. Perhaps our definitions make us feel safe, make it easier for us to navigate this confusing world. But it doesn't mean our definitions actually get to define anyone. Take Serena Williams, for instance. We want to point at her and say, "tennis player." Fine. Except here's the thing: it would be totally OK if Serena Williams didn't return to tennis after her pregnancy, even though she says she intends to. Because — crazy thought here — maybe she doesn't really care about how other people perceive or define her.
There is no denying that Serena Williams is a fierce, talented, determined athlete. She has been playing tennis since she was just 3 years old, according to Biography.com, and won her first serious championship in 1999 when she was only 18. She has won 23 Grand Slam singles titles, and her most recent Grand Slam was won against her sister, Venus, at the Australian Open in January. Her most recent win put her ahead of former record-holder Steffi Graf, which means Williams is now ranked as the number one tennis player in the world. Williams has also won four Olympic gold medals.
Of course, as many of us know now, Williams happened to win her 23rd Grand Slam while she was in her first trimester. She and fiancé, Reddit co-founder Alexis Ohanian, are expecting their first baby this fall.
In the week since Williams announced her pregnancy with a baby bump selfie and the caption "20 weeks" via Snapchat, there has been a lot of talk about whether Williams will quit tennis once she has a baby. Let's just put aside the latent sexism of that question for a second here (the question that new fathers never hear and new mothers are plagued with seemingly from the outset of their pregnancies), and focus on this concept that Williams somehow needs to stay in tennis to remain relevant.
Almost immediately after her pregnancy was announced, Williams confirmed to Reuters through her rep that she will not be competing for the rest of the 2017 season. She plans to return to the sport next year.
And if she doesn't? Well that's fine too. She'll still be the same outspoken, independent, fearless badass we've all come to know and love, with or without a tennis racket. Defining her by her enormous skill as a tennis player, choosing to see her through that narrow lens, is just as ridiculous as defining someone simply by the fact that they're a mother.
Nobody in this world should ever be expected to be just one thing, even if that thing is amazing. Even if she happens to be the best in the world at what she does... it is still just what she does. It isn't all of who she is. And, even if Williams would say that tennis does define her, she has the right to change that definition — without input from anyone who feels that she's making a horrible mistake.
She gets to determine her value, just as we all do. She gets to embrace all of the different traits and qualities she houses inside herself. She is the one who will decide on this next chapter of her life. The only thing fans can and should do, if they're lucky enough, is go along for the ride and support her in whatever ways they can.