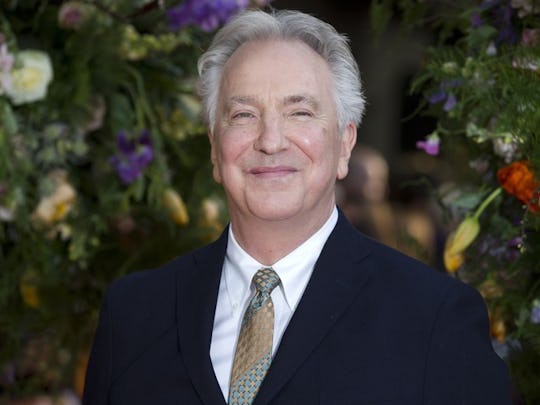 Justin Tallis/AFP/Getty Images
Why It's OK To Mourn Alan Rickman & David Bowie, Even Though You Didn't Really "Know" Them
It's been a rough week for fans of 69-year-old British men. On Monday morning, my husband woke me up with the news that David Bowie had died from cancer. On Thursday, he again woke me up, this time telling me that actor Alan Rickman, too, had died. It's at this point that I asked him to kindly refrain from starting my days with terrible news. It's just plain rude. I'm that person who cries over particularly sappy cereal commercials, and I've already made myself cry twice by writing about Rickman's death. But I also know that it's OK for fans to mourn Rickman and Bowie, even if they never met them. And I think they would have been OK with it too.
I still remember vividly the day that Michael Jackson died. I was working outside the home at the time, and when I left the office late in the afternoon on June 25, 2009, the DJs on the ride home were abuzz with the news that there was an ambulance outside Jackson's home. By the time I picked my son up from day care, it was official: Michael Jackson was dead. When I got home, my phone was full of text messages from concerned friends, gently trying to break the news to me.
I spent a lot of time crying over Michael. That weekend, I invited friends over to watch his videos and mourn with me. I carried a scuffed Thriller CD with me everywhere I went for weeks. It was years before I could listen to "You Are Not Alone" or "I'll Be There" without tearing up. I took the news harder than the deaths of some distant relatives that I'd actually known. Was that weird? Maybe not. Because while I may have met a great aunt once or twice, and we shared DNA, that's all there was to our relationship. Michael had always been there for me. Not literally, sure, but the memories were real.
I remember the anticipation of the premiere of the "Black or White" video on Fox — I grew up without cable and never got to see music videos, so being able to share that experience with the rest of the world was a huge deal. And in the same way that some people feel it's just not Thanksgiving without "Alice's Restaurant," or Hanukkah without Adam Sandler's song, I've never gone one single Halloween (my favorite holiday) without listening to "Thriller." I grew up with Michael. Maybe he didn't know me, but I knew him, and I missed him.
Friday, Jan. 8, was David Bowie's 69th birthday, and to mark the occasion, NPR's Todd Zwillich, Bowie superfan, presented his case for why Bowie was the most influential musician alive. It was a fascinating examination of Bowie's career, and I became a bigger fan for having listened to it (I encourage even the most casual of fans to check it out). Days later, I almost wished I hadn't heard it, because it cut that much deeper when he died.
I've always loved Harry Potter, and I've recently been re-reading the books and re-watching the movies with my young son. We'll be visiting The Wizarding World of Harry Potter at Universal Studios soon, and, even in my work, I'm a little obsessed with Harry Potter. So, lately, I've been pretty well immersed in that world. So to me, hearing about Alan Rickman's death is like losing Severus Snape all over again (and also Hans Gruber).
While I'm not making the claim that I'm suffering more than Bowie and Rickman's friends, families, or even casual acquaintances, it still hurts a little to see them leave us. And I think they'd understand that. When one chooses a career in the entertainment industry, it's because they seek to entertain. These men worked their whole lives to please — or teach some important life lesson to — people they'd never meet.
Their goal was to touch the lives of millions in some meaningful way. And they both have. To mourn them isn't silly. It's honoring their work. So go ahead and cry. Listen to "Space Oddity" in the dark. Watch The Deathly Hallows and go through half a box of tissues. When fans acknowledge that these strangers meant something to them, they're validating their legacies, and that's exactly the right response.
Images: Justin Tallis/AFP, Steve Granitz/WireImage, Andrew H. Walker/Getty Images Entertainment/Getty Images; Warner Brothers Pictures