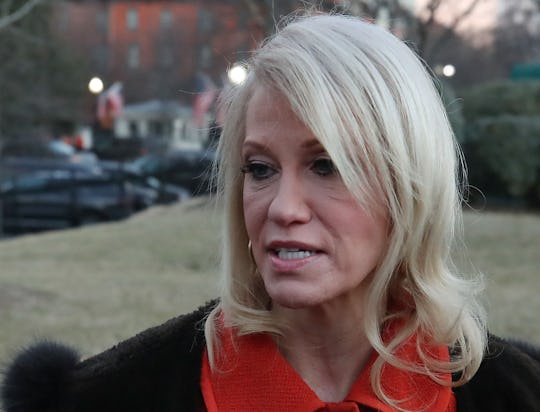 Mark Wilson/Getty Images News/Getty Images
Why Kellyanne Conway's Comments About Rob Porter Are So Dangerous
On Sunday morning, Kellyanne Conway visited CNN's Jake Tapper on State of the Union to talk about what's going on in the White House in the wake of top aide Rob Porter's resignation this week. But instead of instilling viewers with some sense that the administration understands the severity of the domestic abuse allegations, Kellyanne Conway's comments about Rob Porter and Hope Hicks totally misunderstand intimate partner violence and how or why it happens. Romper's request for comment from the White House was not immediately returned.
Conway did say that she had "no reason not to believe these women," referring to Porters two ex-wives Colbie Holderness and Jennie Willoughby, who detailed alleged abuse by the former White House staff secretary to CNN and the Daily Mail.
This was a different take than the president had, who tweeted on Saturday that "mere allegations" of abuse were "ruining" men's careers. So it was nice to hear Conway stand up for the women who had come forward at least. But then, she had to keep talking. When asked if she was worried about White House communications director Hope Hicks, who has been romantically linked to Porter, Conway missed the whole point.
She reiterated a position she took back in 2016, when she said that rape wouldn't exist if women were physically stronger than men or "strong enough" to ward off abuse. On Sunday, she said that she wasn't worried about Hicks being abused because she was a "strong" and "capable" woman, who had a good career and support system around her.
In any other circumstance, being called "strong" and "capable" is a compliment, but it's a dangerous message to send to women and other victims out there. One in four women experience intimate partner violence in their lifetime, according to the National Domestic Abuse Hotline, and not being "strong" or "capable enough" to fend off the violence or know how to get out of the relationship has nothing to do with it.
A person can be strong, capable, have all the friends and money in the world, and still find themselves in an abusive relationship. Again, intimate partner violence doesn't discriminate. It can happen to anyone. Instead of taking domestic violence head on and treating it like the serious issue that it is, the White House essentially brushed it off.
On Twitter, People Weren't Having It
Conway's comments this weekend about Hicks, and previous statements about how women should be able to fight off their attackers don't just ignore science (some women's bodies shut down in the face of sexual violence or that it's not easy to "just leave" an abusive partner), but blame women for toxic, violent behavior perpetrated against them.
In addition to assuming that women are somehow at fault for their abuse, Conway also defended Trump's Chief of Staff John Kelly. Kelly, who initially said in a statement this week that Porter was a man of "integrity and honor," according to the Huffington Post, later released another statement saying that the administration was taking domestic violence allegations "seriously."
Trump also stood by Porter, wishing him well in his career and reminded reporters that the aide denied the allegations, saying, "I think you also have to remember that. He said very strongly yesterday he's innocent," doubling down on making sure that everyone knows there are "many sides" to issues that Trump doesn't seem to think are a very big deal. (Remember, once in 1994, Trump himself recommended that men be "rough" with their wives to get respect from them, as reported by Vox.)
Given their previous positions on violence against women, it's not surprising that both Conway and Trump seem to blame the women for coming forward — the White House only began to talk about the issue when it started snowballing into a full on scandal this week.
It would have been the perfect chance for the Trump administration to hold themselves accountable for protecting an alleged abuser and show women that it values and respects them. But they missed the opportunity to do that, yet again.
Check out Romper's new video series, Romper's Doula Diaries:
Watch full episodes of Romper's Doula Diaries on Facebook Watch.