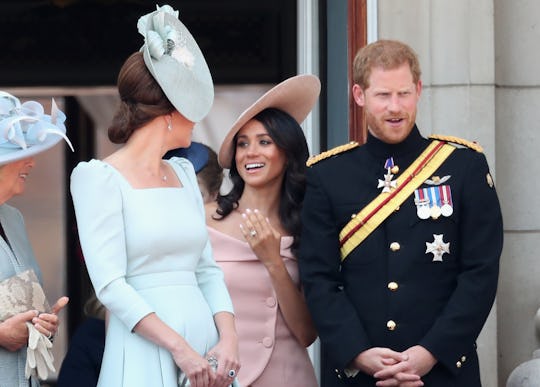 Chris Jackson/Getty Images News/Getty Images
You Probably Noticed Meghan Stood *Behind* Kate On The Palace Balcony — Well, This *Could* Be Why
When the royal family took to the balcony of Buckingham Palace on Saturday to watch the Trooping The Colour in honor of Queen Elizabeth's 92nd official birthday, I noticed two things straight away. One, Princess Charlotte and Prince George, two of the Duke and Duchess of Cambridge's children, are as adorable as ever. And two, the newest member of the royal family was sort of hidden behind the Duchess of Cambridge' hat. I won't lie to you, I was worried. Because I want these two sisters-in-law to be besties. But in reality, the reason Meghan Markle stood behind Kate Middleton on the palace balcony makes sense. And happily, it was in no way a snub because my heart just couldn't take that kind of disappointment.
Saturday's Trooping The Colour, a longstanding military parade that coincides with the reigning monarch's birthday, marked the first official royal engagement with the entire British monarchy for former American actress Markle. The last time, of course, was at her wedding on May 19 at St. George's Chapel in Windsor Castle to Prince Harry. But this event was massively different, since the royal family assembled on the balcony en masse, with no wedding to celebrate. And according to People, there is a definite pecking order when it comes to standing on the balcony at Buckingham Palace for the Trooping The Colour.
Managing editor of Majesty magazine Joe Little explained to People:
She was not as prominent perhaps as some people might have expected, but there's a pecking order. There was no slight intended, but William being the older, more senior brother would go out [first] with his wife.
In other words, Prince William will one day be the King of England, so he and his wife get the better view. But don't worry, no one is mad about it, apparently, especially since Markle was still in a good position, according to Little. "[Meghan] was still in a good position," he explained to People. "She was central rather than the alternative of being in the front row and along the balcony to the left or right."
And now I feel bad for 2011 Kate Middleton because she was, indeed, in the front row to the left during her first year at the Trooping The Colour. Looking at a picture from that year, she was basically in the nose bleeds, royal balcony-style.
So yes, Markle might have been standing behind Kate Middleton. And this was unfortunately a bit more obvious because Middleton is significantly taller than her sister-in-law, even without the big hats they all wore that day for the occasion.
But at least we got to see them curtsy together.
Now before anyone goes thinking that the Duchess of Cambridge asked her sister-in-law to get in line behind her, this is apparently not so. A palace insider reportedly told Express that it would have been Markle's choice to stand there. "There's no one laying this out, telling her where to stand," the source reportedly told the publication. "And there were a lot of kids who everyone would want at the front."
So she was saving room for the kids in front. That, my friends, is class. Also, now royal fans know they probably have Meghan Markle to thank for this particularly adorable moment with Princess Charlotte, Prince George, and their 7-year-old cousin Savannah Phillips.
Both Markle and Middleton looked divine and sort of perfectly coordinated at the Trooping The Colour. Markle wore a custom pink off-the-shoulder Caroline Herrara dress and a hat by Philip Treacy. Middleton wore an icy blue dress by Alexander McQueen and a hat by Juliette Botterill, as Town & Country noted.
It was so exciting to see their family finally coming together. Now I just need to see Meghan Markle playing with the royal kids and I'll be happy forever.