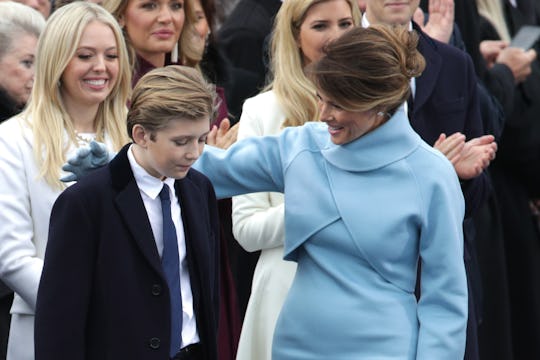 Alex Wong/Getty Images News/Getty Images
Don't Criticize Melania Trump For Being Protective Of Barron
When it comes to the new president and first family, there are plenty of controversial decisions that people can pretty easily criticize. The decision to give Ivanka Trump security clearance without any contracts holding her to ethics codes has raised red flags, and President Donald Trump's choice to hire his son-in-law as a senior adviser also understandably drew questions from the public. However, when it comes to Melania Trump's highly criticized decision to stay in New York while Barron finishes up his school year, the backlash seems unduly harsh. After all, no matter what anyone thinks of his father, Barron is still just an 11-year-old kid, and no one can blame Melania for trying to provide some stability for her young child.
The criticism, of course, stems from the amount of money it's reportedly costing to protect the first family in New York. According to The New York Times, the New York Police Department estimated it would cost them $127,000 to $146,000 a day to protect Melania and Barron. Considering that the government foots that bill, taxpayers are understandably upset. However, Melania wasn't the Trump to decide to run for president, and neither was Barron — so punishing them for trying to keep a semblance of a normal life seems misguided.
And since the very beginning, Melania has been clear about where her priorities have lain during Trump's newfound political career. "My husband is traveling all the time," Melania told People during Trump's campaign in September. "Barron needs somebody as a parent, so I am with him all the time."
Trump agreed. "It's a little scary for Barron," he told People of his presidential campaign. "He thinks he is going to be taken away from friends."
With his controversial father in the news now more than ever, Barron has already faced an undue amount of scrutiny. Online, people have wrongly questioned whether the youngest Trump is autistic, criticized his behavior at presidential events, and have made him the target of jokes on social media. According to Us Weekly, Melania's lawyer was quick to go after the YouTuber who questioned whether Barron was autistic, and that desire to protect her son is understandable.
"I am a full time mom," Melania told Parenting several years back. "That is my first job."
When it comes to Trump, there's plenty to criticize for those who don't agree with him — from his executive orders to the people he's assigned to his administration. However, attacking a mother for wanting to give her son the best possible upbringing seems like a low blow, especially when she wasn't the Trump who chose to move to the White House. She's simply trying to give her son as normal a life as possible, and that's a hard thing to fault a mother for.