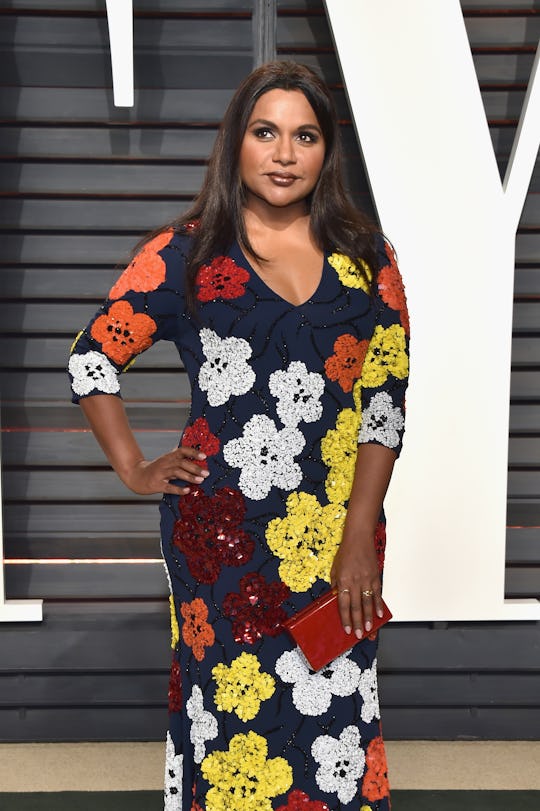 Pascal Le Segretain/Getty Images Entertainment/Getty Images
'Crazy Rich Asians' Had Mindy Kaling "Bawling" For This Touching Reason
Here's one important truth I know about single moms because I am one: We love to see ourselves portrayed as strong women in movies. I can't tell you how many movies I've watched where the single mom is a real sad sack who can't get her nonsense together, and it irks me endlessly. Because that's not who I am or how I want to be represented. And neither does any other hard working single mom out there. Which is why Mindy Kaling loves Crazy Rich Asians as a single mom, and why I'm planning on seeing it the very first chance I get.
The Oceans 8 actress is a single mom herself to daughter Katherine Swati Kaling, who was born on Dec. 15 in Los Angeles, according to People. Kaling has been a wonderful mixture of super private and sweetly honest about her experience as a parent so far, never sharing a picture of her little girl but getting real about her anxieties and worries as a mom at every turn. Which, in my world, is sort of the sweet spot of parenting as a celebrity. I've always respected Kaling as a writer, actress, and producer, but as a parent? Despite not personally knowing her, I feel a kinship with her.
Because we're both single moms who spend a whole lot of time worrying about our kids.
After watching the new sleeper hit of the summer, Crazy Rich Asians (based on the book of the same name by Kevin Kwan), Kaling couldn't stop talking about how much she loved the movie on social media. So much so, in fact, that she had to break it down into her top five reasons why she loved the movie about Rachel, a Chinese-American university professor who has to meet her wealthy boyfriend's super traditional family for the first time.
Kaling, like millions of others, loved the movie for its scenery in Singapore, the fact that a female lead in a rom-com is an economics professor, its much-needed representation in Hollywood, the fashion, makeover scenes, etc. In other words, most fans of romantic comedies are obviously going to love this lush, beautiful movie. But she especially loved it for a much more personal reason: The relationship between Rachel and the single mother who raised her.
She wrote on Twitter:
... no one told me that Crazy Rich Asians would also carry a powerful statement about single moms and their bonds with their daughters. I was bawling. Crazy Ugly Crying From Me.
Other moms were also feeling the love for Crazy Rich Asians on Twitter:
Kaling is a single mom who clearly hopes to develop a powerful bond with her daughter. And as I cannot overstate, there is something profoundly moving about seeing a hopeful version of your future played out on film. Especially when it comes to your eventual relationship with your child. Because let's face it, when they're still babies, all of it still feels like a terrifying gamble. You love them and you hope they will love you back someday, but who knows what's coming for you? It's terrifying to put so much faith and love into your relationship with one person, as Kaling explained so eloquently to TODAY in March:
I knew how much I would love her and love the experience of being with her. I never understood how much I would worry and how much that worry is unceasing. Happiness for me, now, is just a feeling of relief. I'm in a constant state of worry but I'm enjoying it too. I hope she's developing correctly—I'm anxious constantly. I'm hoping that will change a little bit. I haven't even thought about when she's bigger.
It might seem trivial to want proper representation for single moms in movies, but as a single mom myself I can tell you that it's vital. That so many of my nights were spent on the couch, watching movies as the kids were asleep. That this was my social time, my recovery time, the time when I most needed reassurance that things might turn out just fine after all.
And I have to admit, it's comforting to know that even a multi-talented woman like Mindy Kaling needs that reassurance too.
Excuse me while I run out to see Crazy Rich Asians immediately.