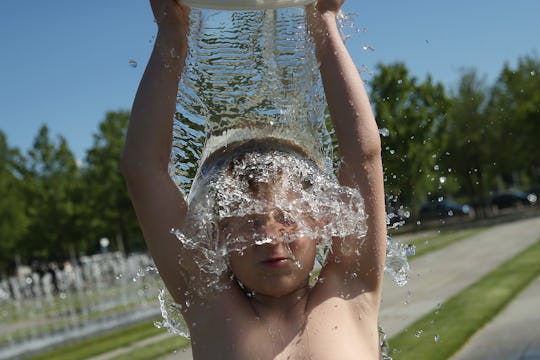 Sean Gallup/Getty Images News/Getty Images
Why Parents Need To Talk To Their Kids About The Hot Water Challenge
When I was a girl, it was the "sleep challenge," wherein people would essentially try to cover someone's mouth until they "fell asleep." Also known as suffocating a person until they were unconscious. Then there was the "dead hand challenge," the "cinnamon challenge," the "Kylie Jenner lip challenge." And those are just the ones we've heard about. Dangerous, stupid challenges that encourage kids to put themselves in harm's way, all for the sake of proving a point they don't need to prove to people who aren't worth the effort. The latest alarming trend, the "hot water challenge," looks as though it's going to need a little parental intervention before anyone else gets hurt.
The hot water challenge is essentially exactly what it sounds like: Participants can either boil water and pour it over themselves or pour it over someone else. It's not new, apparently; doing a quick YouTube scan, videos of the hot water challenge date back to 2013. But for some reason, the challenge appears to have really taken off in recent months. There are dozens of videos of kids doing the hot water challenge, some of which have millions of views, including a video of a young man putting his hand in a pot of boiling water. There simply aren't enough adjectives to describe how irresponsible, ill-conceived, and downright idiotic this challenge truly is.
And don't forget dangerous, of course. Because one child has already reportedly died fromt he hot water challenge.
Little Ki'Ari Pope, an 8-year-old girl from Boynton Beach, Florida, was reportedly dared by her cousins to drink boiling water through a straw after they came upon the videos on YouTube in March, according to CBS 12. She was sent to bed that night with a glass of cold water but later rushed to the hospital for an emergency tracheotomy. She was still recovering when she stopped breathing at the end of July and died from severe burns in her mouth and throat. Her aunt, Diane Johnson, told the news outlet that Ki'Ari was trying to prove her bravery to her cousins, with heartbreaking results.
Other children who have been part of the hot water challenge have survived, but suffered excruciating second and third-degree burns as a result. Like 10-year-old Wesley Smith of North Carolina, who was admitted to the Winston Salem Burn Center in July after he and his stepbrother tried the hot water challenge. Wesley has a long road to recover ahead of him, and will have to undergo several painful skin-grafting surgeries in the near future.
There is also a potentially sinister side to the challenge: In at least one case, the hot water challenge was used as a way to lethally bully a girl at a sleepover. When 11-year-old Jamoneisha Merritt of New York was sleeping at a supposed friend's house earlier in August, the girls poured a bucket of boiling water over her because, according to reports, they didn't like her. A 12-year-old girl was arrested and charged with felony assault, and Jamoneisha was admitted to ICU. Her body was badly burned.
The only real way parents can protect their kids from the hot water challenge is open communication and vigilance. Monitoring internet usage, talking realistically about the dangers of pouring 200 degree water on yourself or someone else, and the lifelong damage that can be done. Johnson, little Ki'Ari's aunt, said it best, as she told CBS 12:
Parents, talk to your kids about these challenges. Don't just give them your phone and let them go by. Watch what they are doing.
Amen to that.