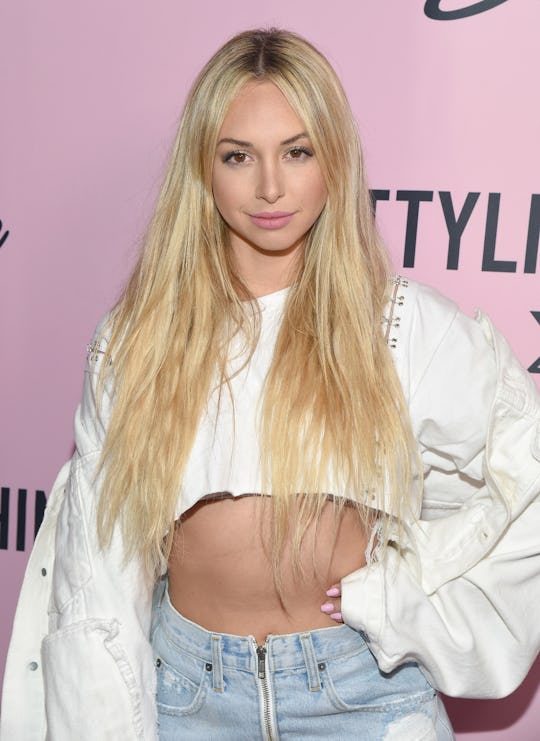 Matt Winkelmeyer/Getty Images Entertainment/Getty Images
Corinne Olympios Has Ended Her Investigation Into 'BiP' Allegations
In the wake of recent televised interviews and a bevy of media interest, Corinne Olympios has ended her Bachelorette in Paradise investigation. Earlier this month, the 24-year-old contestant was at the center of a controversy after Season 4 of the hit reality show came to a halt. Two of the show's producers raised concerns regarding an alleged sexual encounter between Olympios and castmate DeMario Jackson, in which they claimed Olympios was reportedly too drunk to give consent, prompting Warner Bros. to investigate into allegations of misconduct. A spokesperson for Warner Bros. told Romper it would not be issuing any statement regarding Olympios' decision to no longer investigate the allegations.
The production company eventually cleared its staffers of any wrongdoing and the show is set to resume filming in Mexico soon. Jackson recently told his side of the story, in great detail, during a multi-part interview with E! News. Olympios, however, had remained virtually silent about the ordeal until Thursday, with the exception of one statement, in which she called herself a "victim" and said she had been trying "make sense of what happened," according to People.
And that's exactly why her latest comments should be taken seriously, because even the possibility of sexual assault — regardless of how intoxicated she or Jackson may have been — is traumatizing for anyone and worth investigating to the fullest extent.
On Thursday, Olympios issued a statement to People to explain her and her legal team's decision to conclude its independent investigation:
In light of the overwhelming amount of misinformation that has been spread in the media, I want to clarify a few things. My intent over the past few weeks has been to learn and understand what happened on June 4. While I never filed complaints or accusations against anyone associated with Bachelor in Paradise, my team and I felt it was very important to be thorough in getting to the bottom of what had occurred.
I felt victimized by the fact that others were judging me through conflicting and unsubstantiated reports, while I myself had no recollection of the events that transpired.
(For context: Shortly after news initially broke that production of Bachelor in Paradise had shut down, Olympios became a target on social media, with many blaming her for the alleged encounter and discrediting her take on it due to her history of promiscuity on the show.)
Her statement continued:
My team's investigation into this matter has now been completed to my satisfaction. I am also happy about the changes that have been made to the production of Bachelor in Paradise. While I am extremely grateful for the opportunity to have been a participant on The Bachelor, and while I was invited to return to Bachelor in Paradise when production resumed, I respectfully made the decision not to return.
I understand the media's interest in this story, and I greatly appreciate my fans' concerns for my well-being, but I think it is best if I keep any further thoughts private for now.
While fans can argue over the dynamics of The Bachelor and its spin-off series, the topics of consent and sexual assault are simply not up for debate. The fact that this alleged encounter made some feel the need to investigate warrants respectful attention, and the idea that Olympios herself is choosing to detach herself from the entire situation at this point should be cause for constructive discussion over how things ever got this far in American society. Feeling anxiety over a forgotten sexual encounter is traumatic enough — being bullied by outsiders unfamiliar with what happened is just rubbing salt in the wound.
Until the entire story comes full circle and is made public by both sides, Olympios included, rush-to-judgement opinions should be left at the door.