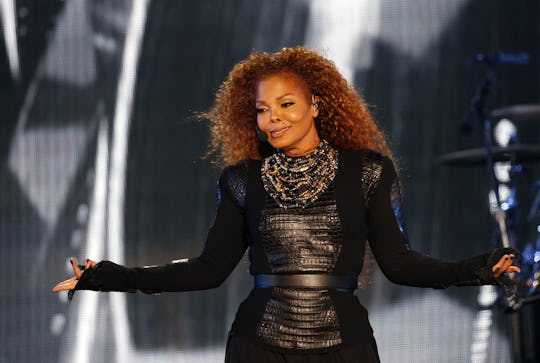 KARIM SAHIB/AFP/Getty Images
Why Saying Janet Jackson Shouldn't Be Pregnant At Her Age Is Unnecessary Concern Trolling
Last Wednesday, it was reported that pop singer Janet Jackson is pregnant with her first child — otherwise joyous news to celebrate just in time for Mother's Day this past Sunday. Jackson will turn 50 on May 16. Despite the great news and new exciting phase of life to come for her and husband Wissam Al Mana, almost immediately, commentary began to creep out of the woodwork about how Janet Jackson shouldn't be pregnant at her age. Besides a general commentary that "she's too old," people started asking questions how a "woman of her age" could even get pregnant at 49 years old in the first place.
Lisa Rosenthal, Patient Advocate at Reproductive Medicine Associates of Connecticut, summarized the onslaught of commentary in the five days since the news of Jackson's pregnancy broke thusly, according to her column for the Huffington Post:
Why the judgment about her age? Who are we to decide about someone else's time line? We wouldn't ordinarily be involved in anyone's baby making schedule except for our own. And we're not involved here. Because this is literally front page news though, we make judgments.
Rosenthal has nailed the whole invented controversy about Jackson's pregnancy at age 50 spot on. In a nutshell, it's really none of anyone's damn business.
First of all, why does this kind of gossipy fuss — and let's call all this concern trolling for Jackson's health what it really is, gossip — somehow manage to rise to a level of cultural norm, like this is somehow OK? Believe it or not, it really shouldn't be normal to question pregnancy at her age, including everything from how should got pregnant to whether it's safe for her or her baby. After three marriages and Jackson's lifelong desire for a family, can the public just let the woman have her moment of long-awaited joy instead of immediately trying to tear it down or turn it into a debate about health?
It really doesn't matter if Jackson underwent IVF to get pregnant, as some reproductive specialists have speculated. Is it likely? Probably. But at the same time, fans have no idea what she's gone through to achieve pregnancy at this point — and again, it's no one's business. That she's chosen to reveal her pregnancy doesn't suddenly make the public privy to her entire medical record or any aspect of how her pregnancy came to be.
But let's walk this back even further: I've always taken umbrage when women are described "of a certain age" — because more often than not, it comes with some kind of expectation or assumption about what a women should or shouldn't be doing because of her age. And that's a whole load of bullsh*t. No one was sounding the alarm when Jackson went on a world tour for her latest album, Unbreakable, at age 49 — and absolutely slaying it at every performance.
The public has decided to collectively clutch its pearls over Jackson's pregnancy, especially for being a "woman of her age," even though the percentage of women ages 50 to 54 giving birth increased by more than 165 percent between 2000 and 2013. Pregnancy over the age of 50 isn't new or unheard of — and if the rise in pregnancies among women over 50 is any indication, it's not going anywhere, either.
Bottom line — whether someone thinks Jackson should or shouldn't be pregnant no longer matters: She is. As a mom after infertility and IVF, I can say with confidence the wait is totally worth it. Let's shower Jackson with mama-to-be congratulations instead of sexist, ageist concerns and condolences.