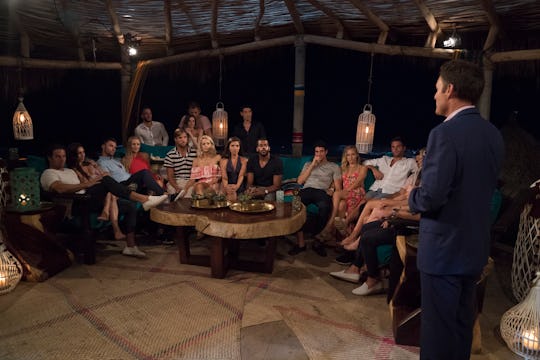 Paul Hebert/ABC
The Blurred Out Butts On 'BiP' Are A Little Much This Season
If you're a returning Bachelor in Paradise fan, then you've probably noticed the extra censorship this season. Specifically, I'm talking about the black bars or blurred out and pixelated butts of the female contestants. It's nothing new for a network TV show to use censor bars when necessary, but this season, it seems a little overkill. And obviously the most important question is: Why are some butts blurred and others have the black bars? At this time, there have been no formal statements from ABC or The Bachelor franchise about why some women's butts are covered with a giant black box and others are just a little fuzzy. One thing is for sure though, no viewers will even accidentally glimpse so much as half a bare butt-cheek.
Censored behinds are nothing new for the franchise, of course. Fans might remember Jillian Anderson from The Bachelor Season 19 and her famously black-barred bikini bottoms. Whenever she wore a bikini during the season, there was a black bar hovering over her derriere. And when she went on Bachelor in Paradise, the black bar followed.
Shortly after she was sent home from Chris Soules' season of The Bachelor, Chris Harrison talked about the whole Bachelor censorship thing with Ryan Seacrest on On Air with Ryan Seacrest. Harrison explained that because of the placement of Jillian's bikini bottoms, there was less coverage than the network deemed appropriate for TV. "Standards and practices of ABC drew the line, and it was her butt," he said.
Well, apparently on Bachelor in Paradise Season 5 everybody's butt is stepping out of line. Perhaps, and I'm just spitballing here, the blurred butts on the show are for the more modest of the butt-baring bikini bottoms, while the black boxes are for those butts that are a little more daring.
At the beginning of the season, Bibiana stole everyone's hearts once again when she broke down her Bachelor in Paradise strategy: "Kill them with booty." She added, "If my ass gets blurred, I'm doing something right." Unfortunately for Bibi, either all of the other women had the same plan, or the censorship team at ABC this year are just especially sensitive to female almost-nudity.
The commitment to blurry backsides seems to follow even those butts which appear fully covered. For example, when Leo and Kendall went on their date her butt was blurred, but you could clearly see her entire bikini bottom behind the blur. Maybe the fabric of the swimsuit was offensive? I really don't know.
But maybe, just maybe, the show is doing it on purpose to laugh with (at?) us. Maybe all these burry, black-barred bottoms are just a running joke. Historically, BiP is a lot more relaxed than other shows in the franchise — and has been known to poke fun at its contestants. Remember when Clare Crawley had an emotional heart-to-heart with a raccoon?
The plot thickens when you think back to 2015, around the time of the Bachelor in Paradise Season 2 premiere. Harrison spoke to People about Bachelor drinking games and revealed an idea of his own. "I've heard anytime we say 'amazing' or 'dramatic' or 'journey,' these are all key words. So I think to change it up for Paradise, instead of words, how about [drinking when] anything is digitized, blurred out, or there's a black box across it?" Is that a confession, Harrison?
As a responsible journalist, I feel like I should note here that if you took a drink every time you saw a blurred or blacked out butt on Bachelor in Paradise you'd probably be calling sick to work the next day from your hospital bed. So maybe don't. I do, however, encourage you to help me get to the bottom of this essential question. What butts get a blur and what butts get a box? The people want to know.