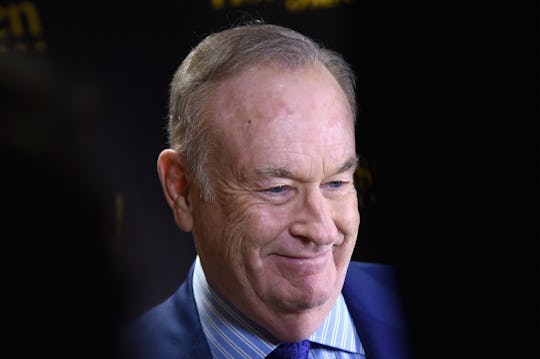 Ilya S. Savenok/Getty Images Entertainment/Getty Images
The Bill O'Reilly Allegations Should Matter To Moms
Bill O'Reilly, the popular host of Fox News' The O'Reilly Factor, is a powerful man. His anti-politically correct show, which runs every night at 8 p.m. Eastern Time, raked in a solid $46 million in ad revenue from 2014 to 2016, according to a report by The New York Times. He claims a paycheck of $18 million per year. And now, it turns out he has been accused of allegedly sexually and verbally harassing women in the workplace at least five times in the past 13 years, though he has unequivocally denied all claims against him. So why should these allegations against Bill O'Reilly matter to moms everywhere? What difference could it possibly make in our day-to-day lives? After all, Bill O'Reilly is not a friend, he's not a family member. Why should we care about any accusations against him?
Because of the message it sends our daughters. When a man in a position of power allegedly uses that power to force unwanted attention on women, it matters. When those women don't believe they can speak out against that person for fear that their career could be ruined, and when their fears are, indeed, realized, it matters.
Five women worked for Bill O'Reilly, either as producers or guests on his show. Five women allegedly felt harassed by him, felt threatened or intimidated. Those five women no longer work for The O'Reilly Factor — and sure, some of them might have received financial settlements (The New York Times reported that O'Reilly and Fox News have purportedly paid out $13 million in harassment settlements since 2004). But 21st Century Fox, the parent company of Fox News, released a statement defending O'Reilly, not the women accusing him, so he's got weight on his side that perhaps those women do not. (Romper has reached out to Fox News Channel and Bill O'Reilly's representatives for comment and is awaiting a response.)
Even separate from this specific instance, what does ignoring claims of harassment in general say to our daughters? That you are powerless, that your sexuality will somehow be tied in with your career aspirations, whether you like it or not? That men in power, particularly men who earn buckets of money for their bosses, will be the ones who are ultimately protected, so don't even bother saying anything? After all, the first instance of O'Reilly being accused of allegedly sexually harassing a female employee was in 2004. He settled the suit for $9 million. And kept on hosting his own television show.
Moms of sons also need to concern themselves with this culture of tolerance as well (one in which rapists get off with a punishment that poorly fits their crime and someone who brags about allegedly groping women can be a viable political candidate). As a mother of sons myself, I am horrified by this benign acceptance that the burden of proof lies so heavily on the victim, while the accused is lifted up by society because of his wealth. And his power. And his fame.
For his part, O'Reilly released an impassioned statement through his crisis management representative in response to the allegations, where he identified himself as the real victim of the tale, and denied all the allegations against him:
Just like other prominent and controversial people, I'm vulnerable to lawsuits from individuals who want me to pay them to avoid negative publicity. In my more than 20 years at Fox News Channel, no one has ever filed a complaint about me with the Human Resources Department, even on the anonymous hotline. But most importantly, I'm a father who cares deeply for my children and who would do anything to avoid hurting them in any way. And so I have put to rest any controversies to spare my children.
Bill O'Reilly will not matter much to most children (it's unlikely any of them care about the political debate he and his guests engage in nightly, after all), but the culture of tolerance that bolsters men who have been accused time and again certainly should. As advertisers continue to jump ship, pulling their support from O'Reilly's show — whether those claims against him turn out to be true or not — it's certainly a discussion worth having with your kids, anyway.
Outside the confines of this particular situation, it's crucial that you let your kids know that sexual abuse and harassment is not to be tolerated in any form by anyone. Money and power are not automatic permission slips to any and all behavior.
Then, they can be better than the ones who came before.