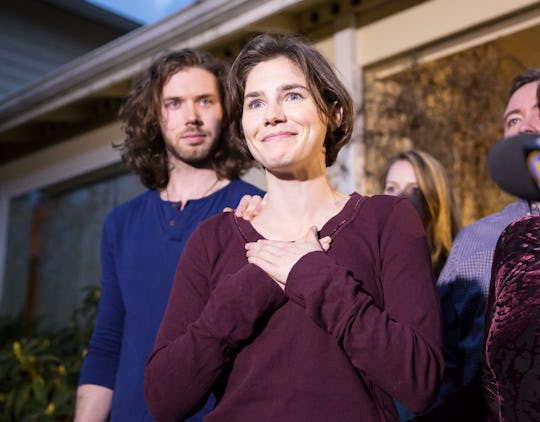 Stephen Brashear/Getty Images News/Getty Images
Why Was Amanda Knox In Italy? Like Many American Students, She Studied Abroad
Since 2007, the name "Amanda Knox" has been instantly recognizable in both the United States and abroad – but not for a good reason. Knox, an American student, was accused, tried, convicted, and eventually acquitted (twice) of the murder of her roommate Meredith Kercher, a British exchange student living abroad in Perugia. The case garnered significant press attention, both domestically and internationally, and is the subject of an upcoming Netflix true-crime documentary. But why was Amanda Knox in Italy to begin with? Like many American students, she wanted an opportunity to live and study abroad.
At the time of Kercher's death in November 2007, the victim was a 21-year-old University of Leeds student studying in Italy under the Erasmus programme (an international exchange program) and living with three roommates in a flat in Perugia. One of those three roommates was Amanda Knox, an American student living in Perugia on an exchange program. Knox graduated from Seattle Preparatory High School, a Jesuit high school, in 2005 and then attended the University of Washington in her home state, where she majored in linguistics.
By the start of her junior year – a time when many American students choose to study abroad – in 2007, Knox allegedly told her family that she felt too "closed off" from the rest of the world and wanted to spend a year of her college experience living abroad. According to Knox's stepfather, he was wary at the time that Knox announced her intention to move abroad, alone, citing the fact that he believed Knox to be "the smartest person you'd ever know" but "dumb as a rock" in terms of "street sense."
While in Italy, Knox supported herself by working as a waitress at Le Chic, a local bar. When initially taken into custody, Knox had allegedly accused her Le Chic boss of having been involved with Kercher's murder, a claim she later recanted. Knox and her boyfriend of only one week, Raffaele Sollecito, were taken into custody within a month of Kercher's death and jointly tried on the murder charge.
Knox had only been in Perugia for a relatively short time at the time of Kercher's death, having planned to study there for a year. Instead, she wound up incarcerated in an Italian prison for four years, as a result of the murder charges against her. She was released in October 2011 and returned to the United States at that time. Despite a second trial, conviction, and new acquittal following her initial release, Knox did not return to Italy during that time, according to CNN, and hasn't to this day.
The new Netflix documentary seeks to "shed new light" on the circumstances of Kercher's death, featuring access to new information and interviews with key people involved in the case. Based on the promos released so far, the documentary seeks to present "all sides" of the case, rather than focusing on indicting or exonerating Knox.
The Amanda Knox doc is set to premiere on Netflix on Sept. 30.