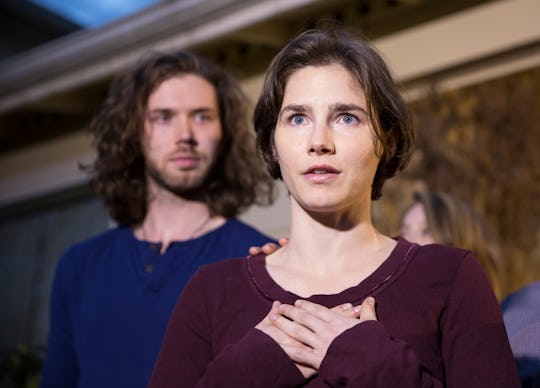 Stephen Brashear/Getty Images News/Getty Images
Why Was Amanda Knox Told She Was HIV Positive? The Documentary Shed Light On The News
During the investigation and trial following the 2007 murder of 21-year-old British student Meredith Kercher, roommate Amanda Knox underwent plenty of public scrutiny from all over the world. Gaining the nickname of "Foxy Knoxy," Knox was widely viewed as a sex-fueled woman, who'd allegedly convinced her then-boyfriend, Rafaelle Sollecito, to engage in sex acts and possibly murder, even though she and Sollecito was ultimately freed of all charges regarding Kercher's murder. Once convicted, Knox was subject to different STD tests in prison, and as the documentary showed, Amanda Knox was told she was HIV positive. Prison officials had led her to believe as much, causing the since-acquitted Knox to write about it in her prison journal, noting that she didn't want to die in prison and that she hoped they were wrong.
The false claim that Knox was HIV positive (yes, Amanda Knox was told she was HIV positive, even though she was not) played a big part in what the media did with the information to follow. After being told she was HIV positive — again, she wasn't — Knox made a list of those she had slept with in the past. Those sexual partners were then leaked to the media, only adding fuel to the Foxy Knoxy flames. In 2011, both Knox and Sollecito were acquitted of the murder of Kercher and since then, Knox has been back home in Seattle, but that doesn't mean that the HIV scare for her was any less traumatizing, in addition to being held in an Italian prison for almost four years before her acquittal.
Despite initially being told that she was HIV positive and needed to hand over a list of past sexual partners, Knox is not and the whole reasoning behind the false positive test seemed to be another part in the misrepresentation of the American student. Throughout the trial, she was painted in a negative, hyper-sexual light (and so what if she was?). In the new Netflix documentary, Amanda Knox, we see interviews with not only Knox and Sollecito, but also the prosecutor in the case, Giuliano Mignini, who gives his account on the events before, during, and after the famed trial. There is also British journalist Nick Pisa, who wasn't shy about admitting the sorts of angles most media outlets had taken when it came to Knox during the trial and even after she was convicted.
The suspicion surround Knox and the coverage of her trial was driven largely by her social life and actions, rather than the evidence laid out for the court to examine. Yes, there were pieces of DNA evidence that aided in the prosecutor's case against Knox, but as she was acquitted in the end, it's clear that much of that was nowhere nearly enough to have convicted her in the first place (despite it happening twice). Instead, Knox underwent intense public scrutiny when it came to her personal life, which had nothing to do with the actual case, and most media outlets ran with that. Her sexual history, along with the fact that she is a female, played huge roles in the stances the public took regarding the case.
In the documentary, Pisa is quick to admit that there was little interest in anyone else because of the sex-crazed image that he and other media outlets were quick to feed into regarding Knox. Mignini also lets it be known that right away, he suspected Knox because he figured that no man could have covered the dead body with a blanket, and Knox was the first suspect he had. Despite the theories and countless years spent trying to make a conviction stick, ultimately the Italian government had to admit that Amanda Knox was innocent, and let her move on with her life.