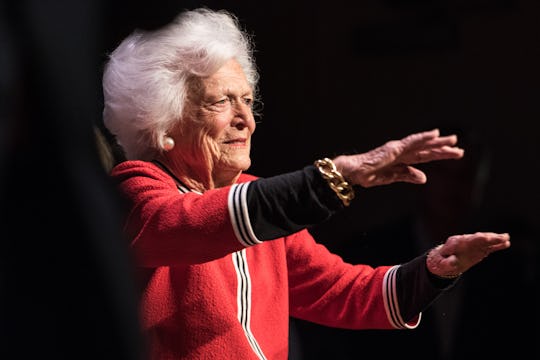 Sean Rayford/Getty Images News/Getty Images
Barbara Bush Was Hospitalized With Her Husband
Just hours after it was revealed that former President George H.W. Bush has been hospitalized since Saturday, TMZ reported that not only is his condition worse than originally thought, but his wife has also been admitted. It's not entirely clear why Barbara Bush was hospitalized, but reps for the former president told TMZ that the former first lady had been experiencing "fatigue and coughing." Both have been admitted to Houston Methodist Hospital.
It was originally reported that George had been admitted to the hospital after suffering from shortness of breath, an issue he's been hospitalized for in the past. Bush's chief of staff, Jean Becker, said that he was "doing fine" and expected to be released in a couple of days. But according to TMZ, he was admitted to the intensive care unit late Wednesday morning with a diagnosis of pneumonia. His office told TMZ that "doctors performed some sort of procedure to clear his airway" under anesthesia as a precautionary measure, and although was moved to the ICU, "he's in stable condition." A spokesperson told Houston's KTRK that he was admitted for an "acute respiratory problem" and is now resting comfortably, while his wife was admitted as a precaution.
Bush spokesman Jim McGrath has confirmed the story to CNN, which previously reported that the former president and first lady planned to forgo President-elect Donald Trump's inauguration on Friday due to health concerns. In a letter to Trump, his predecessor wrote, "My doctor says if I sit outside in January, it likely will put me six feet under. Same for Barbara." George is 92 years old, and suffers from a form of Parkinson's disease that keeps him confined to a wheelchair. Barbara is 91, and although she's not known to suffer from any chronic conditions, she was hospitalized in December 2013 for a "respiratory related issue," according to USA Today.
George was previously hospitalized in 2012 for bronchitis, which required two months of inpatient care. He was hospitalized again in 2015 after breaking the C2 vertebrae in his neck, but was released just days later. Barbara's previous hospitalization turned out to be pneumonia, according to the Los Angeles Times, and required six days of treatment. "I cannot thank the doctors and nurses at Houston Methodist enough for making sure I got the best treatment and got back to George and our dogs as quickly as possible," she said in a statement at the time. Let's hope they keep up the good work.