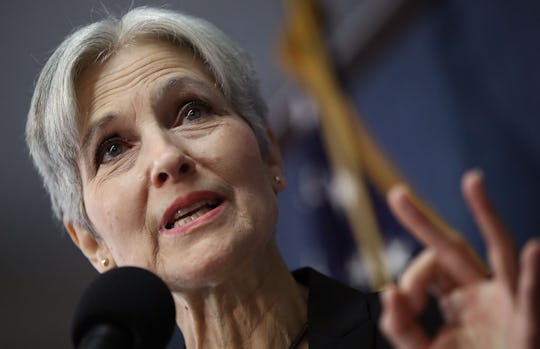 Win McNamee/Getty Images News/Getty Images
Why Was Jill Stein Escorted Off The Debate Premises? She's Not Too Pleased
The first presidential debate on Monday night got rowdy hours before the candidates even took the stage. Green Party candidate Jill Stein arrived at Hofstra University, in Hempstead, New York, only to be promptly removed. Before you start to wonder just why Jill Stein was escorted off the debate premises, it's important to remember that she has a history of causing some ruckus at debates, and at Hofstra University in particular. Stein was spotted boarding a media bus to do interviews, but as soon as officials got wind of her arrival, they told her campaign that she had to leave.
According to USA Today, Stein and her team complied, but she's planning on marching later with the "hundreds" of supporters who plan on protesting the debate for not including third party candidates. Stein was waiting all afternoon at near the campus and earlier today her press secretary, Meleiza Figueroa said, "Our supporters are going to attempt to escort Jill in. We are expecting they will be unsuccessful." Figueroa added that if she's still barred entry, "Jill will be holding a people's debate outside the crowd."
Stein is currently tweeting her open debate under the hashtag #OccupyTheDebates. But the Green party candidate was expecting this reception from Hofstra University and debate security all along.
To start, Stein has been pledging all week to try to get on the debate stage Monday night, even though she didn't meet the credentials to earn herself a podium. The Commission for Presidential Debates, a non-partisan organization that oversees the events, has strict criteria for candidates who want to participate. They have to have at least 15 percent of the vote in current polls and be on the ballot in enough states to theoretically win the electoral college vote. Stein currently polls at around 3 percent and is on the ballot in 45 states. Rules are rules.
But that doesn't mean that the Green Party candidate is going to take it quietly. All summer she, along with Libertarian candidate Gary Johnson, have been petitioning the CPD to let them participate. In response, the CPD has vowed to look at each candidates numbers before each debate — so Stein could still have a chance if she focused her efforts.
Instead, it looks like she's content with protest, as she always is. Four years ago, the candidate held a protest outside of a Hofstra University debate. Stein was detained for eight hours, handcuffed to a chair, for blocking traffic, according to Nassau County police.
It's a testament to how tight security was at the venue on Monday night that police and Hofstra security spotted the random tweet announcing Stein's arrival. It's fair enough to assume that everyone has a right to protest the debate itself or their candidate's positions outside of the debate venue. But who would have imagined that it would be Jill Stein to turn the event into a circus before it even began? Wasn't that supposed to be Trump's job?