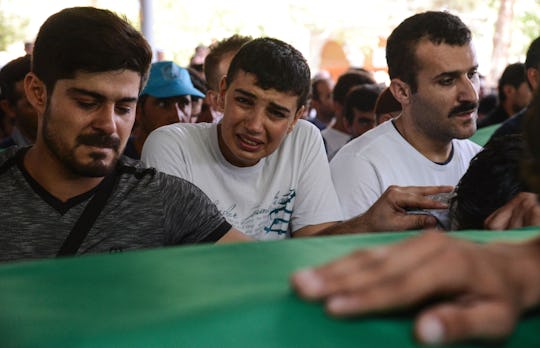 Why Was The Turkey Wedding Bomber So Young? It Could Be Part Of A Disturbing ISIS Trend
When a deadly terrorist attack happens in Europe, North America, or the Middle East, one bad actor emerges as the likely perpetrator: ISIS. The terror group often claims responsibility for bombings or shooting rampages that kill dozens or even hundreds of people, but seldom do we conceive of children committing these atrocities. Turkish president Recep Tayyip Erdogan believes ISIS is behind an ambush in his country that killed at least 53 celebrating people over the weekend, and is is confirmed that the killer was between just 12 and 14 years old. The Turkey wedding bomber was so, so young, and that disturbing development could be indicative of an ISIS trend of indoctrinating and mobilizing child soldiers.
The blast of the suicide bomber devastated Turkey at about 10:50 p.m. Saturday evening at a street wedding in the city of Gaziantep, which is about 60 miles away from Aleppo, Syria, the Islamic State's home base, according to CNN. With an additional 69 people wounded, it's the deadliest attack on the country this year — outpacing the fatality count of the Ataturk Airport massacre that left 44 dead in June. One major similarity between the two tragedies is that officials believe ISIS coordinated them; the stark, sickening contrast is that the suicide bomber who blitzed the wedding was a child.
Although the accepted profile of an ISIS fighter describes a jihadist as a single man in his mid-20s, the militant group openly touts its recruitment, brainwashing, and use of children in its operations. Known in Iraq and Syria as "Cubs of the Caliphate," at least 89 kids died fighting for ISIS between January 2015 and January 2016, a Georgia State University examination of the organization's social media channels and messaging apps, which unabashedly eulogize these young warriors, concluded.
Officials in Turkey investigating the wedding bombing are working to determine whether the young boy who carried out the attack detonated his own suicide vest, or whether someone else did it remotely. This indicates that they're reluctant to assign blame to the boy, and for good reason: A report published in March by Quilliam, a London counter-terrorist think tank, found that ISIS makes a regular practice of using children as spies, preachers, soldiers, and suicide bombers. Girls are married at as young as 9, and often subjected to brutal rapes.
Perhaps the Islamic State's primary motivation for abducting hundreds of kids between 9 and 15, as The Guardian reported, is to ensure the longevity of the group. The Quilliam report explains:
Having been introduced to ideology at a young age, children are more likely to consider it normal, and therefore defend its practices. Thus, the indoctrination has both tactical and strategic value for IS. Not only can children help meet the present needs of the 'caliphate', once they grow up, they will continue to propagate its existence and expansion, thus securing its long-term survival.
In November 2014, NBC News reported that while some children actually volunteer to be part of ISIS, others end up joining their fathers in the effort through no choice of their own. Clearly, when they're that young, they're victims themselves, and they're usually subject to fast-paced extreme indoctrination before they're eligible to engage in battle.
"They teach them how to use AK-47s," one unnamed Iraqi security official told the outlet. "They use dolls to teach them how to behead people, then they make them watch a beheading, and sometimes they force them to carry the heads in order to cast the fear away from their hearts."
The result, of course, is compounding, unthinkable horrors for both these brainwashed children and the victims they later claim with violence. In March, a teenage suicide bomber in a stadium near Baghdad killed 29 when he detonated his explosives during a trophy ceremony after a youth soccer game. And less than 24 hours after the wedding massacre in Turkey, Iraqi police intercepted a 14-year-old would-be ISIS suicide bomber who was reportedly targeting a mosque in the city of Kirkuk right before he could do so.
It is not confirmed that ISIS planned and perpetrated the wedding attack in Turkey, but its death toll and savagery fit a harrowing method of operation associated with the organization. The injection of a child into such a situation outside of Iraq or Syria would be somewhat of an anomaly, but it's difficult — and unwise — to dismiss the possibility that ISIS could be beginning to deploy its child army to wreak havoc across the globe, as its adult fighters and sympathizers have been doing for years.