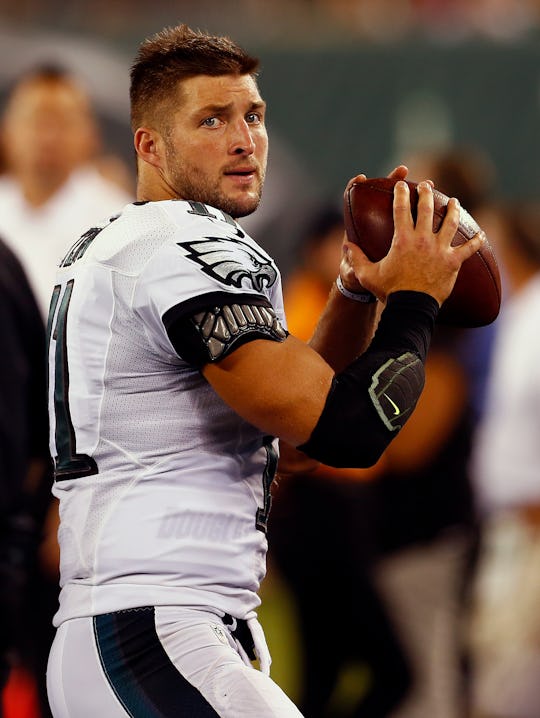 Rich Schultz/Getty Images Sport/Getty Images
Why Was Tim Tebow Invited To Speak At The RNC? A Trump Endorsement Would Have Been Huge
On Monday, Republicans from around the country gathered in Cleveland, Ohio, to participate in the Centennial Republican National Convention and formally nominate the GOP presidential nominee, who will most likely be billionaire Donald Trump following Tuesday's roll call. Trump's campaign released a partial list of RNC speakers on Wednesday, with several big names within the GOP establishment including Wisconsin Gov. Scott Walker and Iowa Sen. Joni Ernst. But there was one name that really stood out, for a variety of reasons: former NFL quarterback Tim Tebow. Why was Tim Tebow invited to speak at the RNC?
Wait... what? That's apparently what Tebow thought too when he heard the news, just after returning from a trip to the Philippines. On Thursday, Tebow took to his Instagram account to clarify that no, he would not be speaking at the RNC. The 28-year-old Heisman Trophy winner certainly isn't the most unusual speaker at the RNC, but Tebow did seem like a really random pick, even though he won't be speaking after all. While Trump's campaign did not immediately return Romper's request for comment, selecting Tebow to speak at the Republican National Convention might not have been such a random play after all.
To further clarify that no, Tebow would not be speaking at the convention, RNC chief spokesman, Sean Spicer, told CNN on Friday, "I think that we would love to have him, don't get me wrong." As to the reason Tebow was named as a speaker, Spicer continued, "There was some speculation that he might be coming. I think he's cleared that up." Oof. Double awkward. But then again, there may have been some very calculated reasons to invite the former NFL player to the RNC podium.
Tim Tebow Is A Devout Christian...
From writing Bible verse numbers in his eye black paint to his signature kneeling prayer on the football field, Tebow is not shy about his Christian faith. He's the son of two Christian missionaries; his father, Bob, has said that he prayed to God for a "preacher son" — Timothy is a name that means "honoring God." As such a prominent Christian in American sports, Tebow is an attractive speaker to help reach the GOP's Evangelical Christian base — a large segment of Republicans that Trump has struggled to reach.
...But He's Not Without Controversy For His Faith
In 2010, Tebow appeared beside his mother Pamela in a 30-second spot during the Superbowl. While the ad itself seemed fairly innocuous, Tebow appeared in an ad for Focus on the Family, a conservative Christian organization. The controversy was that the ad directed viewers to a more detailed story about Tebow's mother's choice not to abort her son while she was pregnant, despite repeated appeals from her doctor due to medical complications. On the biggest night in football, the Superbowl aired what was essentially a Christian pro-life PSA.
Republicans Love Tim Tebow...
This isn't the first election cycle that Republicans have tried to invoke the mighty blessing of a Tim Tebow endorsement. In 2012, former Texas Gov. and presidential candidate Rick Perry called himself the "Tim Tebow of the Iowa Caucuses" during one of the primary debates while No Compromise PAC, a super PAC supporting then-Minnesota Rep. Michele Bachmann, produced this cringe-worthy 1-minute ad likening her to Tebow. During the 2012 primaries, Tebow was approached by several Republican candidates for endorsements, but ultimately declined, according to a report from the Associated Press.
But Tebow's popularity among Republicans doesn't just end at endorsements: In April, the Florida Republican party seriously considered pushing Tebow to run for Rep. Ander Crenshaw's seat in Florida's 4th District, as the 71-year-old politician announced he was retiring. While Tebow told FOX News he found the idea of running for office "intriguing," no official campaign announcement has yet been made by Tebow — and there's no indication he will, either.
...And Apparently, So Does Trump
And now, it all comes full circle: Tebow speaking for Trump didn't seem so far-fetched to Trump or his campaign — especially when it was revealed earlier this month that Trump used charity money to buy a signed Tim Tebow helmet at a fundraiser for the Susan G. Komen organization. Unfortunately for Trump, he may have actually violated IRS rules governing the use of such funds for a personal purchase.
Sadly for Trump, it doesn't appear as though the admiration is mutual: Not only is Tebow not speaking at the Republican National Convention, he hasn't publicly come out in support of Trump, either — and many are interpreting Tebow's rejection to speak as a statement of non-support in and of itself, like many other Republicans who will be MIA at the RNC this year.