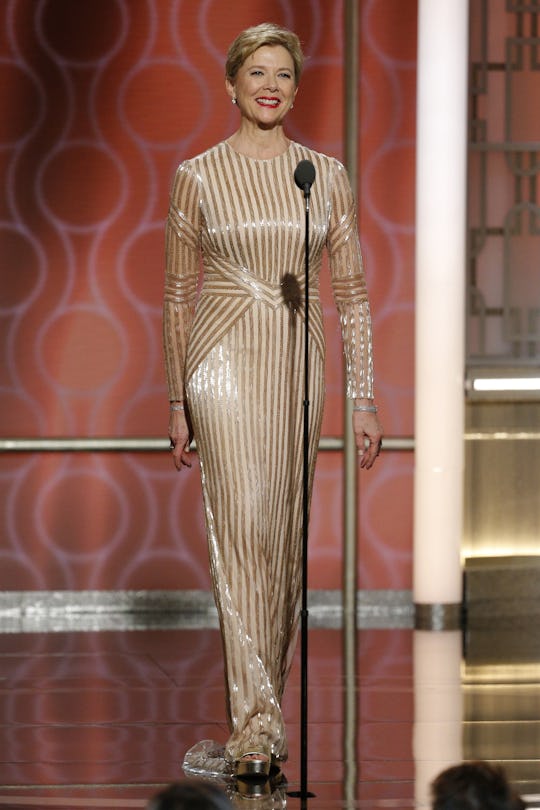 Handout/Getty Images Entertainment/Getty Images
Where's Annette Bening's 2017 Oscar Nomination?
As usual, the announcement of the Oscar nominations this morning was met with a mixed bag of responses. One of the biggest questions is: why wasn't Annette Bening nominated for an Oscar? For many fans, her role in 20th Century Women seemed more than worthy of a nomination for best actress.
However, when the 2017 Oscar nominations were announced, Bening was snubbed from the Best Actress In A Leading Role category. Although her latest role did not score a nomination, Bening has previously been an Oscar nominee for her roles in The Grifters, American Beauty, Being Julia, and The Kids Are All Right, according to IMDB. So clearly, she is no stranger to the award circuit.
For many viewers, Bening's role as Dorothea in 20th Century Women was more than worthy of an Oscar nod. Set in 1970s Southern California, the film explores Dorothea's trials and triumphs as a single mom raising her teenaged son. According to an interview with the Boston Globe, Bening enjoyed the way her character's life intersected with the historical forces of the late 1970s, as well as the universal difficulties of being a single mother. To make matters more interesting, the role of Dorothea was heavily based on director Mike Mills' own mother. To fully appreciate Bening's talent, keep this in mind: she's playing an older woman at a tumultuous period in American history, and she also has to do justice to the director's own mother. Talk about a high-pressure role.
Bening, who was happy to take on the "unglamorous" part, also goes against the grain in Hollywood for portraying a strong woman who looks and acts her age, as noted in Yahoo! Movies. Although parts for women over 40 are notoriously difficult to come by in Hollywood, Bening portrayed a real woman in a realistic way. It's no wonder she was considered an Oscar frontrunner by many fans.
What's more, the film is no stranger to awards. As noted in IMDB, 20th Century Women received seven awards and 57 nominations. And, as shown on an interview with The Today Show, Bening was also hopeful about an Oscar nomination for this role. As could be expected, fans of Bening have expressed some upset about this particular snub.
Although Bening's snub for the 2017 Oscars stings, the actress shows no signs of slowing down. As someone who was nominated for her first Oscar in 1991, Bening is no stranger to the finicky nature of awards ceremonies. Hopefully, however, Bening will go on to claim an Oscar for one of her many upcoming roles.