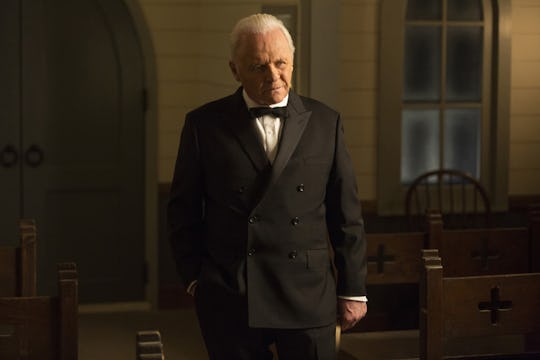 John P. Johnson/HBO
Why Wasn't Anthony Hopkins Nominated For A 2017 Golden Globe? He Was Snubbed
The award season has officially arrived and many fans are spending their morning rejoicing, as their respective shows were nominated for all the Golden Globes they deserve. Others (like me), however, are a little peeved that some notable omissions have been made. For example, why wasn't Anthony Hopkins nominated for a 2017 Golden Globe? Considering the breathtakingly nuanced performance Hopkins gave in the breakout HBO show Westworld, this is nothing short of a travesty. In fact, there may be something wrong in the system.
The nominees for Best Male Actor in a Television Series are Rami Malek, Bob Odenkirk, Matthew Rhys, Liev Schreiber, and Billy Bob Thornton. While I am sure all of these men put on wonderful performances, if I'm honest I haven't seen any of those show so perhaps I'm a little biased. Even so, Hopkins' sinister and mysterious Dr. Robert Ford was certainly deserving of some official recognition from whoever is running things in the Golden Globe nominations department. This character was responsible for carrying much of the intrigue and drama of the show, and his performance was mesmerizing to watch. Nobody does unsettlingly creepy quite like Hopkins, and he's an acting legend for a reason. It's strange, therefore, that he should have been overlooked like this.
Hopkins wasn't the only Westworld actor to have gotten the cold shoulder from the Golden Globes. His co-star, Jeffrey Wright, played Dr. Ford's partner Arnold as well as the robot version of Arnold recreated into a character named Bernard. However his acting genius was overlooked as well, as neither actor received a nomination for their performances. Personally, I feel that this is a mistake. I know that Rami Malek and Liev Schreiber supposedly did incredible work this year, but still.
Unfortunately, because Hopkins' character died in the finale of the series, in a truly surprising twist that nobody saw coming (for a change), he will most likely not be coming back in the series' second season, unless it is as a part of a flashback or memory from one of the newly liberated android hosts. This means that Hopkins will not be officially recognized for his incredible work unless it is as a part of next year's Emmys.
Luckily, Westworld was still recognized for some of the other actors involved. Thandie Newton and Evan Rachel Wood were both nominated in the Best Supporting Actress and Best Lead Actress categories respectively. The show itself was also nominated for Best Drama Series. While I still wish that Hopkins had gotten nominated for the award, at least we in the peanut gallery will give him his due.