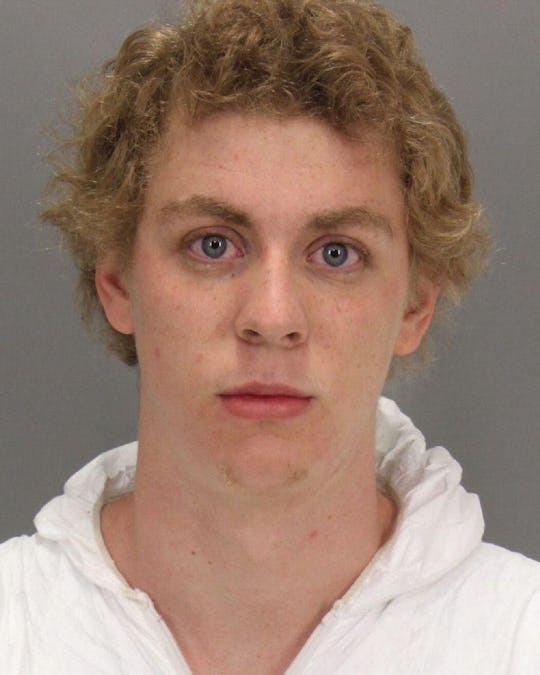 Santa Clara County Sheriffs Office
Why Wasn't Brock Turner's Original Mugshot Immediately Released? There Were Two Of Them
Image matters. And in the case of Brock Turner, the 20-year-old convicted rapist from Stanford University, it seems as though image was everything. When news initially hit that Turner had been convicted of multiple counts of sexual assault against an unconscious woman, the picture that accompanied his story in media outlets was a smiling snapshot of a young charmer in a suit. A young athlete, a happy young man, rather than the usual mugshot that goes along with sexual assault stories. So why wasn't Brock Turner's original mugshot immediately released? Because it turns out Turner had not just one, but two mugshots available.
Turner's mugshot was released by the Santa Clara Sheriffs Office on Monday and completes the picture of the night in question that ruined more than one person's life. Turner was arrested by the Stanford Department of Public Safety back in January 2015 after he was caught by two other young men on bikes while assaulting an unconscious young woman (a woman who has remained anonymous but recently released a powerful letter to her attacker to Buzzfeed — you can read it here). Turner tried to get away but the men caught him and contacted police, who arrived to find the woman unresponsive. Turner was arrested and spent 16 months waiting to go to trial for his crime... and he was sentenced to six months in prison.
So why exactly was the media expected to wait 16 months for a mugshot of Turner? Were the authorities concerned about Turner's image being tarnished even further? That certainly seemed to be the case, considering the only other photo released by the Santa Clara Sheriffs Department was an undated booking photo of him in a nice suit with a fresh haircut.
Unlike the usual simplified system of getting mugshots sent out to the media — whether online or by official request — the officials in question were truculent to say the least when it came to releasing Turner's mugshots. There appeared to be a whole lot of buck passing going on between the Santa Clara Sheriff Office and the Stanford Department of Public Safety to avoid actually releasing any photos. Each camp said it was the responsibility of the other, and round and round it went until fillmaker and journalist Diana Prichard published her formal request for the release of the mugshots. Both of them.
Unfortunately, the damage has been done. There has been a public outcry against what many people see as atrocious privilege, protecting a young white man who committed a terrible crime where a person of color would not necessarily have gotten the same sort of treatment.
Trying to keep Turner's image squeaky clean with shots of him earnestly smiling at the camera in a nice suit and tie, or winning at a swimming meet (to remind us all he is a very good swimmer, you know) has utterly backfired. Especially since Turner's father wrote a letter decrying the judge's decision to put his son in jail for six months because of "20 minutes of action."
While there is clearly no winner in the case of Brock Turner, at least one wrong was righted. At least the world gets to see Turner's image stripped bare in his official mugshot. And at least his victim is finally getting to say her piece — instead of forever being known as the "unconscious woman."