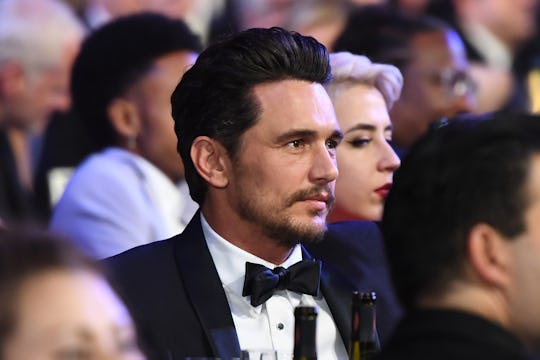 Dimitrios Kambouris/Getty Images Entertainment/Getty Images
People Had Some Thoughts About James Franco's Oscar Nomination Snub
James Franco has received acclaim for his work in The Disaster Artist, which tells the true behind-the-scenes story of The Room, a camp classic considered to be one of the best worst movies in cinematic history. But despite the praise, Franco didn't land a spot in the Best Actor category at the Academy Awards. So why wasn't James Franco nominated for a 2018 Oscar? Even though his performance was praised and he was nominated at the Golden Globes and the SAG Awards (winning the Globe for Best Actor in a Comedy or Musical), recent controversy could have had an effect on his public perception.
Following Franco's Golden Globe win, the L.A. Times reported that five women accused Franco of sexual misconduct. One of the women, a former student of Franco's film school named Sarah Tither-Kaplan, told the publication, "I feel there was an abuse of power, and there was a culture of exploiting non-celebrity women, and a culture of women being replaceable." She alleged that he behaved inappropriately during simulated sex scenes, removing protective plastic guards on the actresses' genitals. Franco's representatives did not immediately respond to Romper's request for comment.
The allegations emerged primarily on Twitter, and Franco did discuss them afterwards on The Late Show with Stephen Colbert and Late Night with Seth Meyers. His statements on both late night talk shows were similar. Franco told Colbert:
The things that I heard that were on Twitter are not accurate, but I completely support people coming out and being able to have a voice because they didn't have a voice for so long. I don't want to shut them down in any way. If there's restitution to be made, I will make it. If I have done something wrong, I will fix it. As far as the bigger issues... I'm here to listen and learn and change my perspective where it's off.
When speaking with Meyers, he again asserted that the accusations were not true even as he expressed support for Time's Up. But, keeping all that in mind, it's understandable that the response to his Oscar nomination snub is mixed.
Some Twitter users had no idea why Franco missed out on a Best Actor nomination, but others had theories. They speculated that the allegations had impacted his shot at the award, but it's not clear how plausible that is. According to Deadline, voting for nominations ended on January 12, 2018. The allegations on Franco only made it to the public after his victory at the Golden Globes, which aired on January 7, 2018. The L.A. Times article recounting the five accusations was published on January 11, 2018.
It's impossible to say if in that brief window of time, the tide turned against Franco enough to have him shut out of the nominations altogether. Romper reached out to the Academy for comment on whether the Franco snub was related to the allegations, but has not heard back at the time of publication.
Some Twitter users didn't care how or why Franco lost a spot in the Best Actor race: they were just glad that he hadn't been nominated. Others, however, definitely felt that it was a snub.
It's possible, of course, that the voters in the Academy just weren't fans of The Disaster Artist or Franco's performance in it.
Ultimately, it's impossible to say whether the accusations had an impact on Franco's Oscar chances. Until the Academy releases a statement confirming or denying a connection, it seems like Franco just didn't luck out this year. The timing could always be just a coincidence.
Check out Romper's new video series, Romper's Doula Diaries:
Watch full episodes of Romper's Doula Diaries on Facebook Watch.