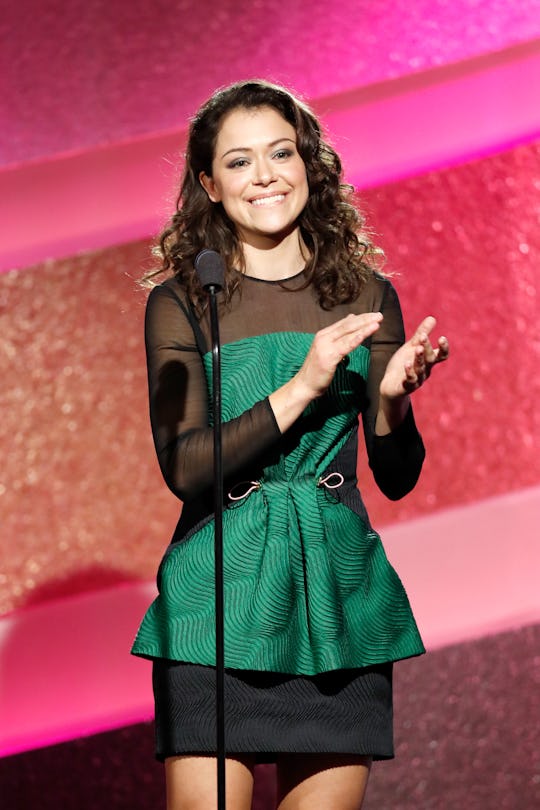 Rich Polk/Getty Images Entertainment/Getty Images
Why Wasn't Tatiana Maslany Nominated For A 2017 Golden Globe? The Actress Was Snubbed
There have been a lot of surprises with the 2017 Golden Globe nominations, but Orphan Black fans might be the most shocked — why wasn't Tatiana Maslany nominated for a 2017 Golden Globe?
It's not as if Maslany hasn't had any awards show love. She scored an Emmy for Outstanding Lead Actress earlier this year according to Entertainment Weekly, and was most recently nominated for a 2016 Critic's Choice Award in the Best Actress in a Drama Series category.
And those well-deserved accolades were a long time coming. According to Vanity Fair, the actress snagged the attention of critics in 2013 when Orphan Black premiered, but it took another three years for her to finally receive an Emmy. Maslany's portrayal of a group of clones sounds intense enough, but when you consider all of the characters she has to keep straight in her head, including accents and totally different mannerisms, it's no wonder fans of the show were ready for her to score some serious hardware for her awards shelf.
Altough she didn't make most of the major predictions list for the 2017 Golden Globe nominations, there's no denying many thought she would at least score the honor of a nod, even if she didn't win. Generally, when you're nominated for several awards shows and win one (I mean, hello. An Emmy is a big deal.), you're usually set for a few more nominations.
Some fans of Maslany and Orphan Black took to Twitter to express their disappointment.
Par for the course for Maslany. Despite her Emmy nod, the actress is used to missing out on some nominations everyone thought she was a shoo-in for. With the last season of Orphan Black on its way, who knows if fans will see Maslany receive any more awards for her character portrayals, let alone nominations. Maslany told POPSUGAR that receiving her Emmy made her think about her fans and how they really felt something, seeing a show they loved so much score so big (finally) at a major awards show.
Will that be the last time they feel something? Hopefully not, but the Golden Globes snub can make them feel that way.
Just chalk it up to too much talent in the pool of nominees. And, if anything, at least Maslany can know that her Emmy was more than just deserved — she had to fight for it. Maybe she can keep fighting for a nomination for the last season of Orphan Black — her fans definitely will.