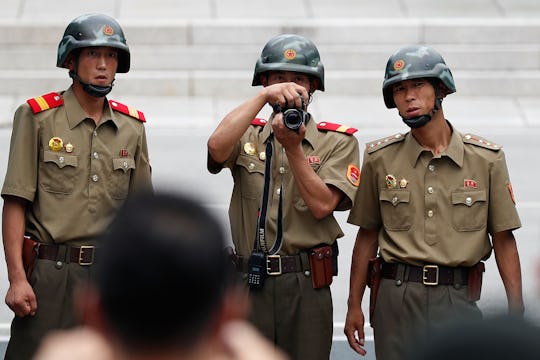 Pool/Getty Images News/Getty Images
North Korea Allegedly Has Its Sights Set On Guam
It seems as though things are going from bad to worse when it comes to relations between North Korea and the United States. In a disturbing turn of events, both countries have begun open verbal warfare with each other in recent days. The leaders of both countries bandied threats back and forth with increasing urgency, the latest of which being North Korea's reported intent to attack Guam.
The isolated nation of North Korea, lead by Kim Jong Un, has released a statement via the state-run media KCNA news agency to announce its intent to attack Guam. Or,more specifically, the Anderson military base on Guam. The small island, a United States territory, sits approximately 6,000 miles away from the continental United States in the western Pacific. It is home to 6,000 American service men and women, along with their families. This number is on top of the 160,000 people who already live on the island. A spokesman for the Strategic Force of the Korean People's Army said, according to CNN, that the possible attack would be focused specifically on:
Anderson Air Force Base in which the US strategic bombers, which get on the nerves of the DPRK and threaten and blackmail it through their frequent visits to the sky above south Korea, are stationed and to send a serious warning signal to the US.
The report from North Korea threatening attack was referencing the flights two U.S. bombers took over the Korean peninsula on Monday alongside Japanese and South Korean planes. He referred to this action as "continuous bomber presence."
Guam is home to two significant American military bases, Anderson and Naval Base Guam. It is considered especially well placed for United States military tactics, halfway between the Korean Peninsula and the South China Sea.
A separate statement from North Korean state media was issued vowing open warfare against the United States if the Americans were to go through with their proposed plan to begin a "preventative war" with North Korea.
North Korean leader Kim Jong-Un is said to be weighing his options and considering a "multi-current and consecutive way any moment," according to CNBC.
This announcement came just hours after President Trump issued his own threat against North Korea in the wake of a recent report from a United States intelligence agency that the small, secretive nation had nuclear capabilities. Trump said on Tuesday during his vacation at a golf course in New Jersey, according to The Guardian:
North Korea best not make any more threats to the United States. They will be met with fire and fury like the world has never seen.
There appears to be a considerable amount of posturing going on by the leaders of both nations. Neither wants to back down, neither wants to appear weak... and yet there Guam sits, in the middle of the Pacific Ocean, watching the skies and waiting to find out their fate.