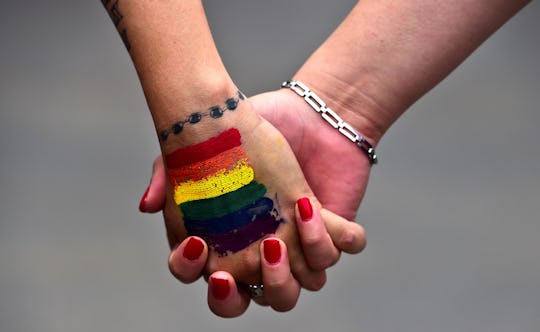 RONALDO SCHEMIDT/AFP/Getty Images
Why You Should Reread The Supreme Court Same-Sex Marriage Ruling
When the Supreme Court of the United States ruled in a close 5-4 vote one year ago that same-sex couples everywhere in the nation should have the right to marry, gay rights advocates celebrated. The Court's decision finally recognized that same-sex couples deserve the same benefits and protections that any other couple is entitled to because their love is just as legitimate. But as discrimination and hate crimes against those who identify as LGBT continue, it's important the Americans continually remind themselves of that fact — which is why you should reread the Supreme Court same-sex marriage ruling on this historic anniversary.
On June 26, 2015, LGBT rights supporters cried with joy in Washington, D.C., proudly displayed rainbow flags and their affection across the nation, and amplified the iconic #LoveWins hashtag on social media. Not long after, many gay and lesbian couples got hitched at their local courthouses to mark the occasion on a particularly memorable note. But a year later, LGBT families still face employment, housing, and custody discrimination, as well as everyday harassment. Just this month, for example, a gunman murdered 49 people in the nation's deadliest mass shooting ever, specifically targeting a gay nightclub in Orlando, Florida.
Rereading key passages from the Obergefell v. Hodges decision reminds everyone that although progress in embracing LGBT people and their rights is slow, it's happening, and that's a beautiful thing. People just need to keep fighting for it and not get comfortable just yet.
In the unprecedented ruling, Justice Anthony Kennedy wrote that the term "same-sex marriage" would no longer be applicable. Instead, marriage would simply be marriage. Because for as much vitriol some individuals and groups aim at LGBT couples, they truly are just people who who love each other enough to make a life and, in many instances, a family, together — exactly like so many straight couples. After characterizing marriage as "the highest ideals of love, fidelity, devotion, sacrifice, and family," Kennedy wrote that gay and lesbian couples simply seek "equal dignity in the eyes of the law."
He also eloquently wrote about the effect of diminishing some relationships before the law has on children growing up with either two moms or two dads:
Without the recognition, stability and predictability marriage offers, their children suffer the stigma of knowing their families are somehow lesser. They also suffer the significant material costs of being raised by unmarried parents, relegated through no fault of their own to a more difficult and uncertain family life. The marriage laws at issue here thus harm and humiliate the children of same-sex couples.
After the horrendous attack on the gay Orlando nightclub, Pulse, that left 49 people — mostly gay Latino men — dead on June 12, onetime American Idol runner-up and "advocate for equal opportunity" Clay Aiken tweeted that someone who survived the tragedy that weekend could still show up at work in Florida on Monday and be fired for being gay. It's true that Florida doesn't have a statewide nondiscrimination law that protects employees based on their sexual identities — and neither do many other states, according to the American Civil Liberties Union.
Democratic presidential candidate Hillary Clinton agreed that this fact was simply unacceptable:
For many, it's almost unbelievable that this could be in the case in 2016, especially in light of the SCOTUS ruling that "love is love." Rereading the majority opinion in the landmark same-sex marriage case of 2015 shows how much public opinion on same-sex marriage is evolving in this country. More than that, the passages that extol the rights of all people to marry illustrates not only how far we have come since 2003, when the court abolished laws that deemed gay sex a crime.
While total equality for LGBT people may sadly be a long ways off, the notable progress that the Obergefell v. Hodges represented is incredibly encouraging, and certainly worth revisiting.
You can read the full ruling, and Justice Kennedy's moving opinion, here.