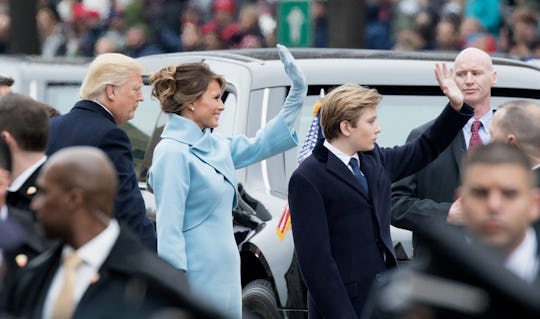 Tasos Katopodis/Getty Images News/Getty Images
Why You Shouldn't Make Fun Of Barron Trump
Since Friday's inauguration, President Donald Trump's youngest son, Barron, has been the punchline of many jokes online. In response, people took to social media to denounce the comments, which ranged from the good-natured to the tasteless. Many of Trump's supporters and detractors took issue with lobbing jokes at a defenseless kid, noting his age as one of the many reasons why you shouldn't make fun of Barron Trump.
This week, former White House intern Monica Lewinsky and former first kid Chelsea Clinton both came out in defense of Barron Trump. In their respective statements online, Clinton and Lewinksy, both of whom have been victims of bullying, have urged people to leave the youngest Trump alone and let him "be a kid." And on Tuesday, the White House issued a statement asking Americans to give Barron and President Trump's other children privacy. According to People, the statement from the Office of the Press Secretary read in part:
It is a longstanding tradition that the children of Presidents are afforded the opportunity to grow up outside of the political spotlight ... The White House fully expects this tradition to continue. We appreciate your cooperation in this matter.
Much of the backlash surrounds an ill-conceived tweet posted by Saturday Night Live staff writer Katie Rich, who wrote during the inauguration that "Barron will be this country's first homsechool shooter." After receiving an onslaught of criticism for the tweet, Rich deleted the post and issued a sincere apology. Still, NBC "indefinitely suspended" the writer, according to Variety — a move that could be considered inappropriate for a station that once employed the president, who has made his fair share of disparaging, inappropriate and harmful statements.
The First Amendment protects parody of a public figure as free speech, thanks in large part to the famous 1985 case, Hustler Magazine v. Falwell. That's why actor Alec Baldwin can get under President Trump's skin every Saturday without legal repercussion. But poking fun at the elder Trump is far different than mocking the littlest Trump. Children are impressionable and sensitive, and take far more to heart. Plus, there's a huge difference between joking that Barron has 1990s-era Ethan Hawke hair and writing that he'd be "this country's first homeschool shooter" — the latter of which has deeper implications than being an ill-conceived Twitter post.
Although first kids are in the public eye, they didn't exactly ask to be there. They're standing in a spotlight that's been shone on them without their consent. So whether it's Sasha and Malia Obama, Barron, Chelsea or even your neighbor's son, children shouldn't be used as a fodder for mean-spirited jokes. More so, what's happening to Barron shouldn't draw our eye away from our current political reality.
Parker Molloy of Upworthy puts it best:
Not only is it wrong to attack an innocent child, but as Clinton's Facebook post suggests, we must not get distracted from what really matters: how Trump plans to run the country.
In other words: Leave Barron — and all kids — alone.