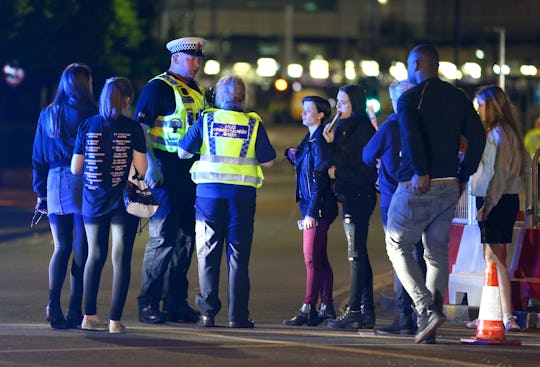 Dave Thompson/Getty Images News/Getty Images
Sharing Photos Of Injured Kids From Manchester Is A Terrible Idea
After an explosion at a Manchester concert arena reportedly killed at least 19 people and wounded many more on Monday evening, panicked concertgoers and people near the scene began posting videos and photos of the chaotic aftermath to social media. Of the thousands of spectators who went to see Ariana Grande perform in the United Kingdom, many of them were reportedly children and teens. But before you retweet or share any photos of injured children from the Ariana Grande concert explosion for whatever purpose, it's important to pause and reconsider.
UPDATE: BBC reported at 11:40 a.m. local time Tuesday that 22 people have been confirmed dead and 59 injured in the Manchester Arena explosion.
UPDATE: In a statement early Tuesday morning local time, Manchester Police spokespersons said, "Just before 10.35pm on Monday 22 May 2017, police were called to reports of an explosion at Manchester Arena. So far 19 people have been confirmed dead, with around 50 others injured. This is currently being treated as a terrorist incident until police know otherwise."
In a separate tweet on Monday night, Grande wrote, "broken. from the bottom of my heart, i am so so sorry. i don't have words."
EARLIER: First and foremost: These are innocent kids and they are entitled to their privacy, especially in a tragic and vulnerable situation like this. While they may have been in a public space, their parents were not given the ability to consent to these images being shared or distributed on social media. Photographers may be allowed to take these pictures, but others should refrain from sharing them out of respect for these young children who've been through a horrific experience and for their parents who may still be trying to connect with them or help them cope with this senseless tragedy.
As The Sun reported after the blast, thousands of kids were left struggling to get home amid travel chaos and about 50 kids were taken to a nearby hotel for safe shelter until their parents could locate them, thanks to the kindness of a woman named Paula Robinson.
Some parents may still be searing for their children, who could very well be one of the many victims from Monday evening's reported explosion, which police have described as a "terrorist incident," according to The New York Times.
One eyewitness, a father who attended the show with his wife and daughter described a "shocking" scene, according to The Telegraph.
"Just carnage everywhere," he said. "There was a good 20 to 30 of them [victims]. Some were young kids, some were disabled people." Another concertgoer told The Manchester Evening News that she saw "young girls with blood on them" and "everyone was screaming and people were running."
According to BuzzFeed News, another witness saw a girl with a broken leg. "It looked like she'd fallen when people were running," she reportedly said.
These harrowing accounts are hard enough to read about and any gruesome images or videos of children caught in the middle of this tragic attack simply should remain unseen. Sharing them would wipe away these victims' sense of privacy and safety. Choosing to share and post such images would only add to the shock and horror felt already. Choosing not to share these images is a choice out of respect and basic decency for these young children, their parents, and families.
And if the injuries and deaths caused by this reported explosion turn out to truly be the result of a terrorist attack, that is all the more reason to ensure these images do not go viral. "[Sharing and airing such images or videos] give the terrorists what they want: a sense of fame, a chance to recruit and a platform that wouldn't otherwise be available," Juliette Kayyem, a CNN national security analyst, wrote in 2015.
While someone may have the best of intentions to try and spread awareness or share their condolences after a horrific incident, there is a lot more to think about before you post. Not only do you preserve and protect an innocent child's dignity, you're also objecting to whatever dangerous propaganda led to this attack in the first place.