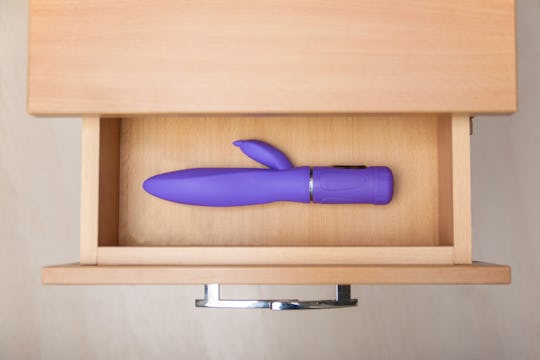 Alexander Mak/Fotolia
Here's How Using Your Vibrator Could Help Get Labor Started
Many women will go to great lengths to induce labor when they're full term. They'll drink nasty teas, go for strenuous walks, eat weird herbs, and have sex with their partners, even if they don't feel entirely up to it. But what if I told you that you didn't need a partner to help you go into labor and you could potentially do it yourself with some self-love? Will a vibrator induce labor? Does a little pleasure offer a big gain?
According to Dr. Jamil Abdur-Rahman, an OB-GYN and medical travel blogger for TwinDoctorsTV, yes and no. "Using a vibrator to masturbate can induce labor, but only under certain circumstances," he says in an email interview with Romper. And what circumstances would that be? Well, your uterus will only contract when it's "ready" to contract. "When men and women have orgasms, their brains produce the 'love hormone,' oxytocin. Oxytocin is also the 'labor hormone' that causes uterine contractions and stimulates labor. So yes, boosting oxytocin levels by masturbating with a vibrator can induce labor by causing the uterus to contract," Abdur-Rahman says. However, your uterus will only contract if it's "ripe," which is the term used to refer to a full-term uterus that has a "sufficient number of oxytocin receptors on it to respond to increasing oxytocin levels."
And that is why it's usually safe to use your vibrator during early pregnancy and not have to worry about spontaneously going into labor. Your oxytocin receptors are low starting out, and as your pregnancy progresses, "part of [your body's] preparation involves the number of oxytocin receptors on the uterus increasing. This makes the uterus able to respond to oxytocin at full term so that it can labor," Abdur-Rahman explains. However, he explains that there are some caveats to not spontaneously going into labor too soon (or other issues) from masturbating with a vibrator in early pregnancy, including if a mom-to-be has had preterm labor earlier in the pregnancy already, "premature rupturing of the membranes," or placenta previa.
"It would not be wise for a woman who has had preterm labor to use a vibrator to masturbate, because [of having] a uterus that is 'ripe' or that is ready to labor again. Once a uterus has labored earlier in a pregnancy, it is ripe and can easily be pushed into labor again by the spike in oxytocin caused by using a vibrator to masturbate," Abdur-Rahman says.
If a woman has had a premature rupturing of the membranes — meaning her bag of water has broken too soon — the baby's sterile environment has been compromised, too. "Introducing a vibrator into the vagina once the baby's sterile uterine environment has been compromised can introduce bacteria into the uterus that are normally found in the vagina but not in the uterus. [Doing] this can potentially cause an infection that could make a vulnerable baby very sick."
"Lastly, women with placenta previa (a condition where the placenta is covering the cervix) should not use a vibrator to masturbate. Placing anything into the vagina, if it touches the cervix in the process, can cause the placenta to bleed severely. Worse case scenario, this can compromise the life of both mom and baby," Abdur-Rahman warns.
As long as you don't have placenta previa, haven't gone into premature labor, and haven't had premature rupturing of your membranes, it should be totally fine to use your vibrator at any point during your pregnancy. And if you wait until the end when your uterus is "ready," it could even lead to labor. (Or just be an easy, fun way to relax.)