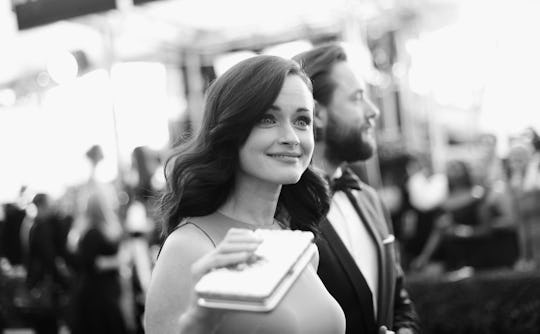 Charley Gallay/Getty Images Entertainment/Getty Images
Will Alexis Bledel's Baby Be In The 'Gilmore Girls' Revival? Fans Would Freak Out
Hey, remember when Alexis Bledel had her baby last year and everyone was totally "Oh my gosh yay!" about it? You don't? Yeah, me neither — and turns out, no one really remembers any of this since the world only just found out last month that Bledel had a baby six months ago with her husband Vincent Kartheiser. So of course, the most important question is: will Alexis Bledel's baby be in the Gilmore Girls revival? Turns out that's kind of a tricky question to answer, since neither Bledel or Kartheiser has said anything publicly about their son, born sometime in the fall of 2015; the news was only confirmed by Bledel's rep to People and Us Weekly. Fans still don't even know what the name of Bledel's baby is yet.
The news about Bledel's status as a new mom was leaked by Gilmore Girls co-star Scott Patterson, who played Luke in the original run of the series. Speaking to Glamour, Patterson opened up about what it's been like to watch Bledel grow up over the years.
It was great to see her. She's really blossomed as a woman and now she's a proud new mother and married and happy... We're comparing notes because my son is about a year and a half older than her young son.
The truth is, of course, that it's a 50-50 chance that Bledel's baby will make an appearance in Stars Hollow. Here's a compelling case for each possibility and fair warning — possible spoiler ahead.
Could It Be A Honeymoon Baby?
An eagle-eyed fan spotted this interesting prop on March 12 during a Warner Bros. Studio tour in Hollywood, California. "We took a tour of Warner Bros studio today and saw Stars Hollow but couldn't take pics 😫 but we did see this in the prop storage!! #spoiler!!! #wedding?" read the caption. Ever since fans spotted this spoiler-y sneak peak, there's been much speculation as to whose wedding this prop tag refers.
When we last left Stars Hollow, Lorelei Gilmore (Lauren Graham) and Luke Danes (Scott Patterson) shared a kiss before the credits rolled for what seemed like the last time for Gilmore Girls. But then there was Lorelei's daughter, the plucky, fresh-faced Yale grad Rory, played by Bledel. Last we saw Rory, she had just turned down a marriage proposal from longtime boyfriend Logan Huntzberger (Matt Czuchry) — but was heading off to cover then Sen. Barack Obama's run for president. Now that Obama will be rounding out his two-term stint in the White House by the time Gilmore Girls: A Year in the Life revival finally airs on Netflix, it's not unreasonable to assume that Rory has gotten married and had a baby. If we're lucky, hopefully that guest starring role will be played by Bledel's own infant son.
Baby, It's Totally Not Happening
Shooting for the Gilmore Girls revival wrapped on May 13. Many of its stars have been keen to sharing tons of photos from behind the scenes of the Gilmore Girls revival on their social media feeds — but there's one very noticeably absent face among the crowd. There's been no sign of any baby in any of the behind the scenes photos that have made their way onto social media so far. If it doesn't look like that baby Bledel is on set, I wonder if Kartheiser was looking after their son during filming?
While there's been no confirmation one way or the other about any kind of wedding, pregnancy, or baby plot lines for the forthcoming revival, there is one pretty compelling piece of evidence we won't see baby Bledel in Stars Hollow: No one even knew that Bledel had been pregnant or given birth until two weeks ago! It would seem that privacy is a must for the 34-year-old actress and her family; if baby Bledel was on set, much less filming for the Gilmore Girls revival, word would have surely gotten out before last month.
Regardless of whether Bledel's baby makes a cameo or not in the Gilmore Girls revival, it can't get here fast enough.