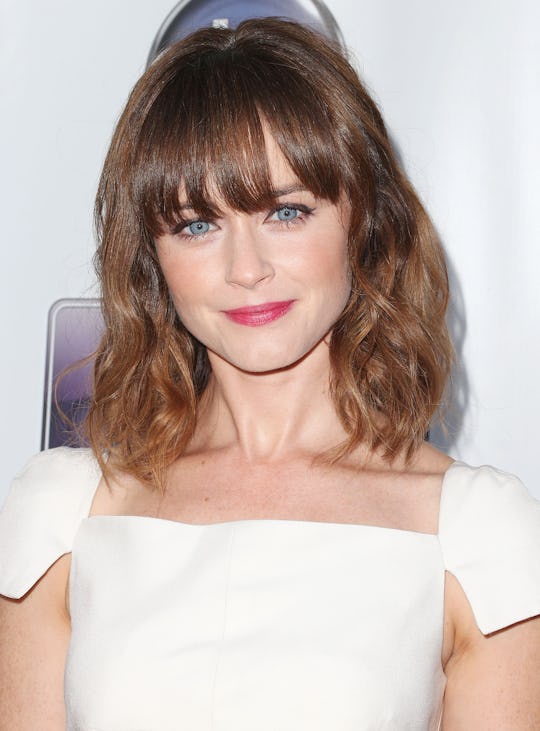 Frederick M. Brown/Getty Images Entertainment/Getty Images
What did Alexis Bledel Name Her Baby? 'Gilmore Girls' Fans Will Have To Wait To Find Out
She's a sly little minx, that Alexis Bledel. First of all, the Gilmore Girls actress somehow became a 34-year-old woman and still looks 16 years old, not sure how that happened (deal with the devil, perhaps?). Then she married her Mad Men co-star Vincent Kartheiser in secret (she played a married mistress to his smarmy Pete Campbell character, which was also weird for Rory lovers) back in 2014. And now Bledel has gone and given birth to a son... six months ago! Sometimes it's almost like she doesn't want us to know stuff — like what Bledel decided to name her baby and how precisely she managed to keep her pregnancy a secret throughout the social media hype of the Gilmore Girls reboot on Netflix.
It turns out we might have to wait another six months to find out the baby boy's name. Or at least until Bledel's Gilmore Girls co-star Scott Patterson (my man Luke Danes) gives another interview and unabashedly blows the lid off Bledel's cover again. In a recent interview with Glamour magazine, Patterson talked about Luke and Lorelai, his famous baseball cap, and (whoops!) Bledel's secret little baby.
"It was great to see her," Patterson told the magazine, adding,
She's really blossomed as a woman and now she's a proud new mother and married and happy. I remember her as an 18-year-old kid, fresh out of college coming into Hollywood and being a little overwhelmed. She's just the most likable, intelligent person and adorable human being. She hasn't changed at all. She looks the same. We're comparing notes because my son is about a year and a half older than her young son. I'm showing her photos and videos and what to expect. We're just really enjoying each other's company.
While a rep for the couple did confirm that a baby had been born, Bledel is still keeping determinedly silent about the tot (again, I am getting this weird feeling like she's purposely keeping secrets from us). Which means we don't actually know what the baby's name is, when exactly he was born, or whether or not we'll see any more little brilliantly blue eyed children of hers in the future... we are totally in the dark.
So. Not. Cool. Rory. I hope you spoke to Lorelai, at least.
The good news is, we can speculate. Speculate about the baby's name (my money is on Milo) and whether or not Rory might be pregnant in the Gilmore Girls reboot. It certainly seems plausible, which means we will be able to enjoy four generations of Gilmore (when you include the immensely underrated Emily Gilmore).
We'll all have to wait and see together, I suppose. Until then, you can forget about juicy details regarding the Bledel/Kartheiser baby altogether.