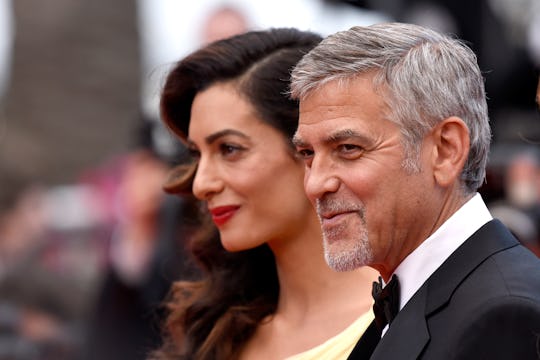 Clemens Bilan/Getty Images Entertainment/Getty Images
Will Amal Clooney Get Private Security When She Delivers?
It's happening guys. June is here, and with it everything is in bloom — including the long-awaited twins of George and Amal Clooney. The soon-to-be-mom has officially begun her maternity leave while dad is turning down invitations to travel as the due date nears. Fans want to know everything about the impending arrivals, naturally. Where will the babies be born? Will they have one of those fancy Beyoncé suites? Will Amal Clooney look into private security for the birth?
For those out there who sheltered a secret hope that perhaps the Clooney twins would arrive at the same hospital as Beyoncé and Jay Z's twins (which would possibly be the seventh sign of the apocalypse) it looks like it won't happen. Yes, the two sets of twins have relatively similar due dates. Yes, we are all assuming they will probably be best friends. But it looks as though the Clooneys have opted to welcome the twins in England, despite the fact that the pair are often in New York. They reportedly plan to give birth at the Royal Chelsea and Westminster Hospital in London, which is close to their home in Oxfordshire. Woman's Day New Zealand reported that George Clooney is pulling out all the stops for the arrival; He has apparently booked the entire Kensington wing of the posh hospital to ensure a private birth experience.
The Kensington wing of the Chelsea and Westminster Hospital has 16 individual rooms, all with en suites and luxurious extras like custom beds, 24-hour room service, and a spa-like postnatal suite. If the Clooneys plan on bringing a security detail along to protect themselves and the babies, it looks like they'll get to hang out in some pretty sweet digs.
Of course, security would be a very real concern for the Clooneys. Their twins are two of the four most famous babies in the world right now, and they're not even born yet. The parents of those other famous babies, the Carter twins, are preparing a security detail for their impending birth. Several news outlets have reported that Bey and Jay Z have conducted security trial runs at Cedars-Sinai Hospital in Los Angeles to make sure all goes well.
It would only make sense for the Clooneys to put security on their to-do list for the birth. He is an Oscar-winning actor and director, and she is a famed international human rights lawyer. And they've been looking forward to meeting their twins — a boy and a girl — for quite some time. As Clooney said in an interview back in February:
We are really happy and really excited. It's going to be an adventure. We've embraced it with arms wide open.
In other words, they won't be taking any chances with the safety of their babies.