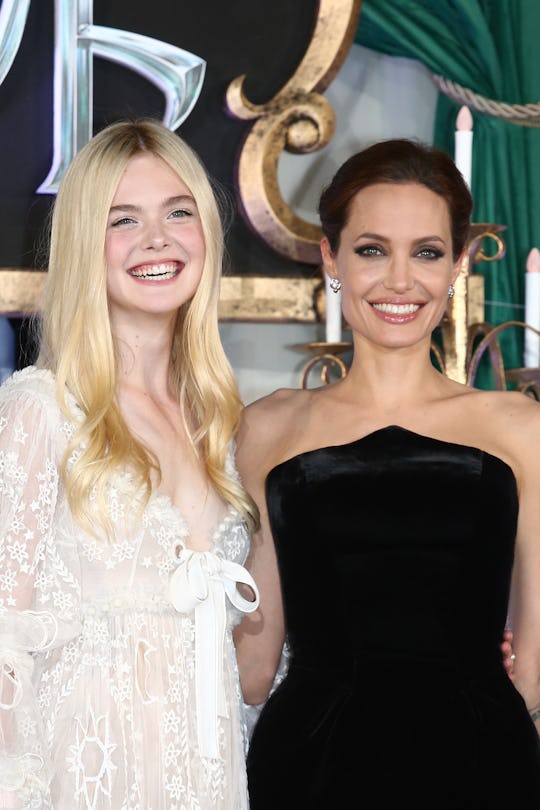 Ken Ishii/Getty Images Entertainment/Getty Images
Will Angelina Jolie Be In The 'Maleficent' Sequel? It Wouldn't Be The Same Without Her
Disney announced on Monday that it will be releasing a whole slew of new live-action fairy tales. Based on the massive success of live-action remakes like The Jungle Book and Maleficent in the last two years, the multimedia giant has made the wise decision to capitalize on the positive buzz and keep the love going. And speaking of Maleficent, Disney announced plans for a highly-anticipated sequel to the smash hit retelling of the classic Sleeping Beauty tale. Will Angelina Jolie return for the Maleficent sequel though?
Jolie played the titular character, she of the terrifying cheekbones yet also fantastic cape and pet raven. Maleficent is an evil fairy who doesn't get invited to a christening and, instead of staying home and eating a pint of Chunky Monkey Haagen Daas like a normal gal, decides it's a way better idea to curse the baby. Who, by the way Maleficent, wasn't exactly in charge of the guest list. Just sayin'.
By all accounts, Jolie's performance in the original Maleficent (2014) was outstanding. After a four year hiatus from the movies, this role of a misunderstood villainess certainly seemed to fit her like a glove (or a black cocktail dress with a slit up the thigh, which is way more Jolie's style). As Variety film critic Andrew Barker wrote:
Jolie is perfectly cast in the lead, and does excellent work despite substantial physical constraints. She spends the entire film wearing a prosthetic nose, cheeks, teeth and ears, with moon-sized contact lenses and a bulky set of horns atop her head. (Master makeup magician Rick Baker is in stellar form here.) Her movements are often strictly dictated by how best to frame her silhouette. She has few lines that aren't delivered as monologue, and her most frequent co-stars are digitally rendered creatures. That she manages to command the screen as well as she does in spite of all this is rather remarkable.
And while Jolie told USA Today back in 2015 that she didn't think she would be interested in doing another, it turns out she spoke too soon.
According to Variety, Jolie will indeed return for the sequel, because honestly, why have it otherwise? Who else could have played Maleficent the same way — chilling and sexy and vulnerable in equal measures? Besides, Maleficent was the highest grossing movie of Jolie's career to date, including 2005's Mr. and Mrs. Smith, the movie that started the Jolie-Pitt empire which we all watched for all the wrong reasons. (I was Team Jennifer, not Team Angelina. Mea Culpa.)
Fans are understandably excited at the prospect of seeing one of their favorite conflicted evil fairies back on screen. I'm hoping it's not just because of the cheekbones... but there's a whole lotta love going out to those insane cheekbones I tell you.
While a release date has not been set, it has been confirmed by Disney that the original scriptwriter, Linda Woolverton, will be back with Jolie for the sequel.
(As a side note: Is it wrong that I'm genuinely worried they're going to find her a boyfriend? Or make her "good?" Angelina, if you are reading this, use your famous person powers to stop the madness before it begins, please.)
Of course, news of this sequel is great and all. But the real question is, now that Maleficent has her wings back... what will she do with them?