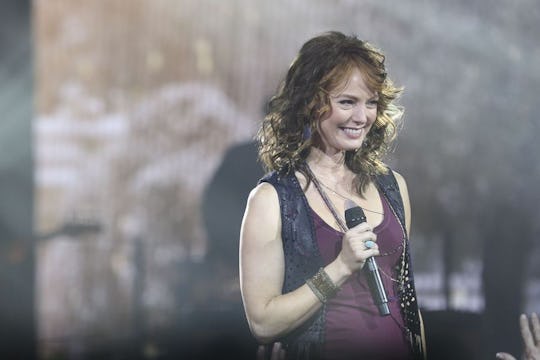 Mark Levine/ABC
Will Autumn Chase & Gunnar Get Together On 'Nashville'? She Seems Pretty Keen On It
Nashville's fourth season has returned with The Exes on tour accompanying fictional country music veteran Autumn Chase. While they did sort of accidentally steal the gig from Layla, who was supposed to be Autumn's opening act, they happily accepted the offer to work with one of Scarlett's idols. But once they're on the road together, they witness some of Autumn's unpleasant professional habits, like kicking a roadie off the tour after one mistake. Autumn also takes up a seemingly one-way flirt-lationship (just go with it) with Gunnar that doesn't bode well for maintaining professional boundaries. So will Autumn Chase and Gunnar get together on Nashville?
After prying into The Exes' dating history ahead of the first tour stop, Autumn learns all the ins and outs of how Gunnar and Scarlett came to be. Seemingly impressed with their ability to write and perform together after inflicting multiple heartbreaks upon one another, Autumn begins recounting the story backstage after the show to everyone she meets over post-performance whiskey.
Obviously uncomfortable with how invasive Autumn was in the first place, and especially so now that she's airing their dirty laundry to strangers with the same irreverence that she discusses her fling with John Mayer (Scarlet and Gunnar are realer than you and John Mayer ever were, Autumn!), The Exes get nervous about whether they'll be able to withstand being on tour with her.
But Scarlett confronts Autumn, in her deferential Scarlett way, and Autumn seems to hear her loud and clear. She tells Scarlett that she appreciates her speaking up and vows to be more confidential and less gossipy about the details of Scarlett and Gunnar's relationship. She even gives an almost-believable explanation about how she's so open about her heartbreak that it didn't occur to her that other people might not be so public about it!
But then Autumn tipsily invites Gunnar back to her room with some of the band, leaving Scarlett conspicuously out of the loop. Coupled with the fact that Autumn earlier delivered what may have been a read on Scarlett's songwriting capabilities, it seems like she has less than pure intentions. Episode "Didn't Expect It To Go Down This Way" pretty much confirms the less-than-pure intentions theory in its synopsis, which teases that "Autumn drives a wedge between Gunnar and Scarlett."
The question is, will Gunnar obliviously fall for it, as he is often prone to do, or will he stay loyal to Scarlett, who he has supposedly been trying to win back this whole time?