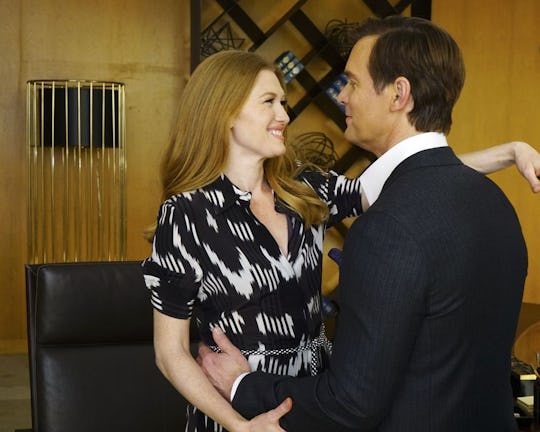 Richard Cartwright/ABC
Will Ben & Alice End Up Together On 'The Catch'? It's Very Complicated
Shonda Rhimes has a special skill in making fans support couples we never would in real life. Ben and Alice's relationship on The Catch is one of those types of couples. Ben lied to Alice about his identity, his job, everything, and then he robbed her blind. We should hate Ben for what he did to Alice. Instead, I kind of find myself sighing happily when he calls her and charms her, wondering if he still loves her. While it's still to be determined if Ben and Alice will actually end up together on The Catch, a girl can dream.
There's something about Ben that screams good guy, despite the fact that he's a con-man and maybe a murderer. Just look at the facts. He helped Princess Zara discover Qasim was stealing money from her, he didn't kill Qasim even though it would've been self-defense, and he's still trying to protect Alice from Margot. Plus, did you see the way he was talking to Zara about Alice? He had serious heart eyes.
It's obvious Ben regrets what he did to Alice, and as Reggie put it, Ben always gets wrapped up in his cons. Ben's job wasn't to get engaged to Alice, he did it because he truly did fall in love with her and he wanted to marry her. And sure, he really did do some shady things, but how was he going to escape Margot or explain to Alice that he was a con-man in a way that was safe and made sense. He couldn't!
Now that the truth is out in the open, maybe Ben and Alice can find their way back to each other. Sure, Alice is definitely mad at Ben right now — and for good reason — but when Ben called her, Alice didn't hang up. She could've completely shut out Ben, but instead she listened to what he had to say, even though she no longer trusts him.
Moreover, there's no way Alice got over Ben that fast. They were engaged, after all! Of course Alice still has feelings for him, and a part of her is definitely looking for him because of those residual feelings. She claims she needs to find him because it's what she does, and to make him pay for what he did, but it's also because he hurt her.
Alice is a fiercely strong woman, but there's something about Ben's attitude towards post-con that still seems to really care. It'd be hard work to get back into Alice's life since she no longer trusts him, and it probably wouldn't even happen this season, but Alice and Ben should definitely end up together.