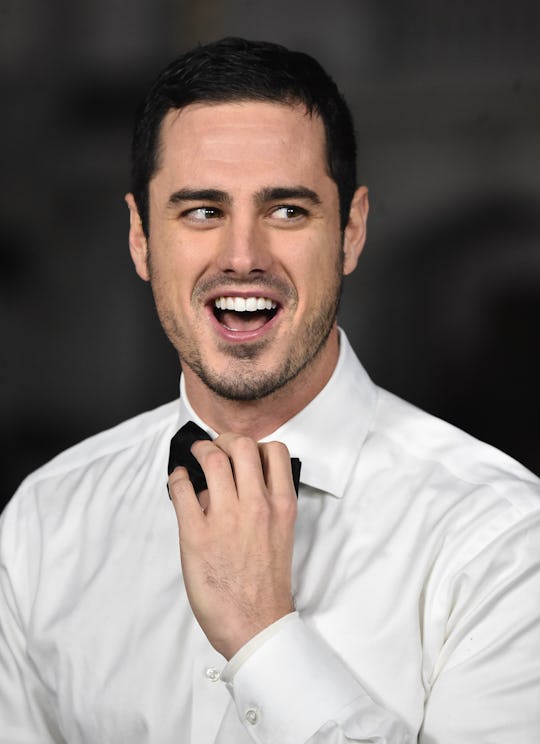 Alberto E. Rodriguez/Getty Images Entertainment/Getty Images
Will Ben's Wedding Be Televised? It Seems Like He's Dropped A Hint
There's nothing like an all-out celebration to end any good love story, so the possibility of having The Bachelor's Ben Higgins get married to his final on-screen contestant is definitely an exciting prospect for viewers. It's been a long, stressful season for viewers, ABC. They've had to put up with contestants walking off the show and making Ben feel unloveable; they watched a bunch of lovely girls get rejected; and they had to yell at their TV screens when Ben told two women he loved them. Will Ben's wedding be televised as a way to smooth out all of those leftover Bachelor-watching nerves?
The short answer is... nobody's sure yet. The longer answer? If we're picking up the hints Ben is putting down, the bachelor may be on track for a televised wedding. According to Hollywood Life, Ben dropped a surprising little hint on-air during the The Bachelor: Women Tell All special. "I am more in love that I've ever been," Ben told host Chris Harrison. "I would marry that woman tomorrow if I could."
That's right — if he could. Could it be that the couple is pumping the brakes so that the wedding can be picked up by ABC and broadcast to the Bachelor Nation?
While the delay might be a sign of a televised wedding after the season finale, the couple could also just be taking things slow (if there is such a thing after the whirlwind of The Bachelor). He told Extra TV, "This is the part that I think is important... she's been put through hell and back for this thing, right? She's had to watch me date somebody else and kiss somebody else from week one to now, and I owe it to her to date her well, to treat her well, to take her on some great dates, to have some fun, maybe take a little vacation and then start talking wedding plans. Because it's not something we want to push off, I know, but it's also not something that's like, 'Let's rush to it.'"
There's still no final word on who the winner is, but rumored winner Lauren B. has been sharing some gorgeous Instagram pictures from both Mexico and Hawaii in the last few months, which makes me wonder if Ben and Lauren already took that little vacation (or two). After wrapping up filming, it's totally possible that they went on some great dates, took a vacation, and started planning their (maybe, hopefully) on-air wedding. I don't see why that timeline wouldn't work. (Hint, hint, ABC.)
If they did go through with the on-air wedding, it would be a win-win for the couple and the network. Ben and his fiancée would walk away with a free wedding, while ABC would cash in on some likely-stellar ratings. After all, The Bachelor's televised wedding for Sean Lowe and Catherine Guidici drew in 6.1 million viewers, according to Wetpaint, and that was while they were competing for viewership with the Grammys. Seeing that this season has been a fan favorite — and, let's admit it, everybody loves Ben — I can imagine a televised wedding would go over pretty well, as long as the couple is into it. In other words, give the people what they want, ABC.