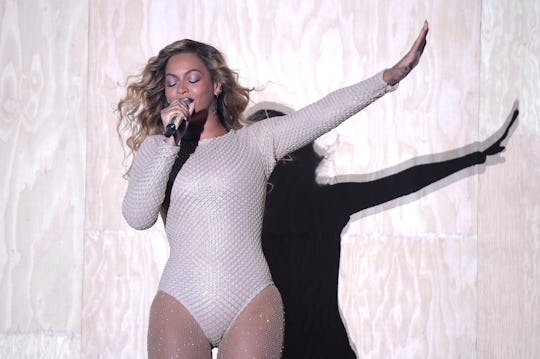 Theo Wargo/Getty Images for Global Citizen
Will Beyonce Be At The Grammys? She Could Be Delivering A Surprise Performance
Beyoncé has been on a roll lately, to say the least. Last weekend, she dropped her instant classic, "Formation," performed it at the Super Bowl the next day while giving off some serious Michael Jackson vibes, then announced her Formation World Tour in the same breath. (Yup, no big, just another weekend in the life of Beyoncé.) Since everyone wants to shine in her light, people are wondering: Will Beyoncé be at the Grammys?
Yes, of course she will. Stop asking silly questions. While she's not up for any Grammy nominations, there have been rumors that Beyoncé will be performing at the award show regardless. While there's been no official word, Billboard did post a picture of a dressing room on Instagram on Sunday, captioned, "Sneak peek into Beyoncé's #GRAMMYs dressing room." The seating plan also has her placed in the front row, along with opening performer Taylor Swift, so the natural assumption is that she'll be a surprise performer at the Grammys. If she does grace the stage, we can only hope she gives us another rendition of "Formation" — or, even better, unveil a new song.
(Update: Beyoncé did show up at the Grammys... but only to announce the winner for Record of the Year, an award nabbed by Super Bowl co-performers Bruno Mars and Mark Ronson and their undeniably contagious "Uptown Funk." Sorry everyone — you'll have to wait until 2017 to see Formation at the Grammys.)
If it turns out that she doesn't perform at the Grammys, I'm holding Billboard personally responsible for getting my hopes up. But in the meantime, she'll be at the event, which means we'll get a glimpse of Queen Bey on the red carpet no matter what.
My guess? She'll collaborate with Taylor Swift in the opening performance, unveil a new song, and announce a new album. (No, I don't have high expectations at all.) Let's cross our fingers that Beyoncé will slay two weekends in a row.