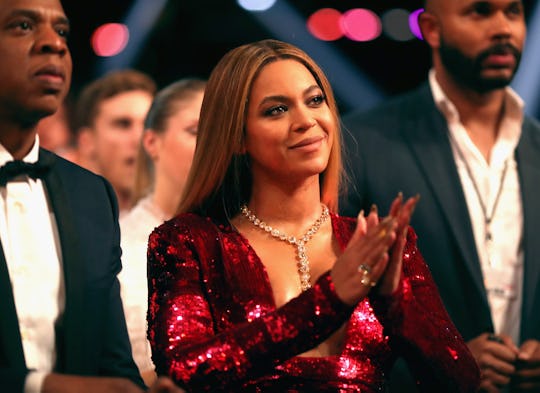 Christopher Polk/Getty Images Entertainment/Getty Images
Will Beyoncé Get The Whole Hospital Floor To Herself?
What would a day in the life of Beyoncé look like without rumors? Whether she and husband Jay Z are amassing an Illuminati empire for daughter Blue Ivy or she's "faking" her own daughter's birth, the internet is rife with people who want to think the worst (or weirdest) of Beyoncé. Particularly when it comes to her child, it seems. One relatively long-lasting rumor about Blue Ivy's birth seems to be resurfacing with Beyoncé's second pregnancy drawing to a close. Despite the fact that this rumor was debunked, people still think that Beyoncé will get a whole hospital floor to herself when she gives birth to her twins.
First things first; she didn't get an entire hospital floor to herself when she had Blue Ivy in January, 2012. Yes, Blue Ivy was born in an executive suite at New York's Lenox Hill Hospital in the Upper East Side. No, her security detail did not, in fact, impede other parents from seeing their babies in an effort to protect the Carter family, as was reported at the time by The New York Daily News and TMZ. They also didn't pay the rumored $1 million for their stay in the fancy executive room with kitchenette, flat screen TVs and sofas. Lenox Hill spokesperson Frank Danza told Today at the time that Beyoncé and Jay Z did book the executive suite, but they were "billed the standard rate for those accommodations. Our executive suites are available for any patient, including the food service and amenities provided to the Carter family."
Ever since Beyoncé broke the internet by announcing that she was pregnant with twins in February, fans have been losing their minds trying to get more information. While Bey has dropped hints, shared a few pics, and even hosted an African-themed Carter push party last Sunday (which could mean they're close to coming?), no official word has been given as to the actual due date. Or where the babies will be born.
Regardless of where Bey gives birth to her babies, there will undoubtedly be rumors clogging up the internet that she:
was never really pregnant
OK, maybe she was pregnant but she stole an entire hospital from young mothers to have her babies
OK, maybe not an entire hospital, but definitely she rented out an entire wing.
This is the life of Beyoncé. No matter what she does, she's going to cause a stir. Whether she delivers the twins in an executive suite at a hospital, at home, overseas... it doesn't seem to matter what choice she makes. Whatever it may be, it's going to be controversial. So here's hoping she does whatever the hell she wants.
Like a queen.