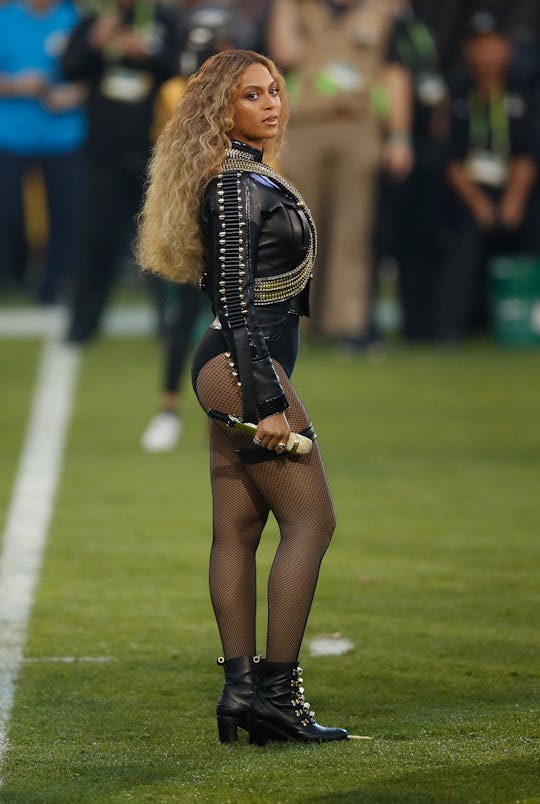 Ezra Shaw/Getty Images Sport/Getty Images
Will Beyonce's Formation Film Be Available Online? Things Are Looking Good
Does everyone remember that time when you were watching the Super Bowl, pretty bored and unmoved, then suddenly Beyoncé showed up and fixed everything? Out of nowhere, she appeared with a killer performance of her new song "Formation" and a video that was just... yes. It was a big hell yeah. It's been more than a month since Beyoncé performed at Super Bowl 50, and now we're getting desperate for more. Coy rumors abound on the Internet right now, with talk of her new album dropping in April, along with a short film. So will Beyoncé's new 'Formation' film be available online?
Beyoncé is notorious for her fabulous surprises (I say again — her "Formation" video drop) and this time around she seems to be keeping an even tighter lid on her plans. Here is what we know so far: her new album will be dropped in April. Beyoncé will be going on a massive Formation tour starting April 27 in Miami. Her devoted fan club, The Bey Hive, has been pretty spot on with its various predictions concerning the beloved Bey. So what do they have to say about the possibility of a short Formation film to be released along with the album?
Want some even better news, y'all? As if things could get better than a new album plus short film by Beyoncé, right? Well, chances are good that the short film, if there indeed will be one, should be available online. Beyoncé's "Formation" and the accompanying video are both available on the high-fidelity music streaming site Tidal.
While nothing has been confirmed yet (in the usual manner of Queen Bey), it's probably a fairly safe bet that Tidal will carry songs from her next album as well as the short film. Particularly since the streaming service is owned by Beyoncé's husband and frequent collaborator Jay Z. So make sure to get signed up on Tidal ASAP (at least just for this event).
This short film won't be the first for Beyoncé. Back in 2014, she released a 12-minute short film, Yours and Mine. With her musical clips playing in the background, Beyoncé got personal with fans and treated them to a monologue where she shared her thoughts on feminism, fame, motherhood, love, and marriage, to name a few. It was inspired and real.
What might we expect from this new short film? Perhaps something a little different. While Yours and Mine was personal and introspective, it was representative of a softer side of the multifaceted Bey. Released on the one-year anniversary of Beyoncé's self-titled visual album, Beyoncé, the short film was about connecting and embracing yourself as a person. Based on what we've already seen with her "Formation" video, I have a strong suspicion this new short film will be... well, a little different. Grittier, perhaps more political.
Be sure to watch for news of Beyoncé's short film in the coming weeks. Because whatever she's going to be saying, you'd better believe it will be worth hearing.