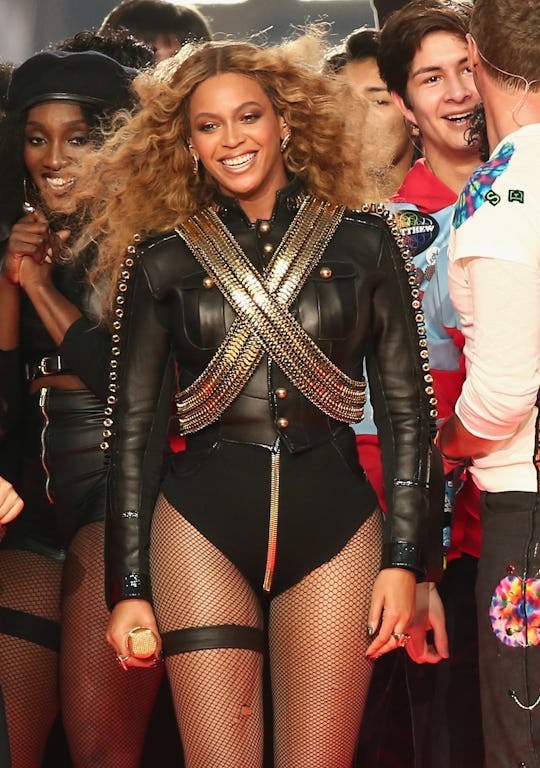 Christopher Polk/Getty Images Sport/Getty Images
Will Beyoncé's Next Album Be Available On Tidal? She's Dropped Music There Before
Okay, Bey, enough with the waiting. I'm sitting here in my black leather bodysuit ready to get in "Formation." I've been practicing my dance moves, upping my swagger game, and trying to perfect that cool eyebrow arch thing that is so signature Beyoncé. Now all I need is a new album. Of course, there's been no official word on whether there will even be a new album, but there have been plenty of clues. So will Beyoncé's next album be on Tidal, or should fans plan on looking elsewhere, once it finally drops?
It would make perfect sense for Beyoncé to offer her new album (you know, the one that feels like it's simply never going to drop) on the artist-owned, high fidelity music streaming website. After all, she is part owner of Tidal along with her husband, rapper and entrepreneur Jay Z, as well as other mega stars like Kanye West, Nicki Minaj, and Rihanna to name a few. Bey released her first single "Formation" (along with a super fabulous music video to match) on Tidal the day before she performed the song live at Super Bowl 50 and saved the half time show from Coldplay, so dropping the rest of the album there would make sense.
Since that fateful Sunday in February, fans have been busy checking Tidal every morning for an album update from Queen Bey, many of them upset that things haven't been proceeding as quickly as they'd like:
Tidal still might not be closing in on the same sort of subscribers as other music streaming sites like Apple Music (11 million subscribers) and Spotify (which, according to CEO Daniel Ek, has 30 million subscribers). But what it lacks in numbers (Tidal still isn't looking too bad at 3 million subscribers itself), it certainly makes up in exclusive releases from huge acts.
Kanye West, for example, recently released his album "The Life of Pablo" exclusively on Tidal (though it is now available on major streaming services) and Prince released his most recent album, "HitNRun Phase One", exclusively on Tidal back in September as well. And who can forget when Nicki Minaj and Beyoncé basically stopped everyone dead in their tracks and broke the internet when they released their video "Feeling Myself" on Tidal?
Anticipation for Beyoncé's next album has hit epic proportions as little tidbits of news are doled out just often enough to keep us frothing at the mouth for more. Rumors have been swirling around the internet about collaborations with powerhouse performers like Adele, Nicki Minaj, Jay Z, and Maria Carey on the album, particularly since this alleged track list was released on Twitter.
(Sidenote: I am beyond excited about the song "Lemonade Taste" with Adele, if it's going to be a real thing.)
So here is what we know for sure: We want Beyoncé to drop her album. We want it now. And there is a strong possibility the album will be released exclusively on Tidal. So keep your Tidal subscription going, everyone — the wait is almost over.