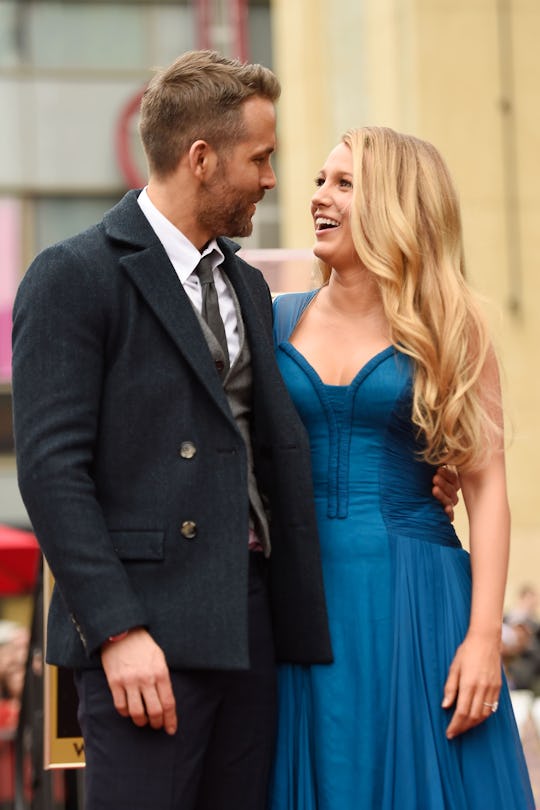 Matt Winkelmeyer/Getty Images Entertainment/Getty Images
Ryan Reynolds & Blake Lively Are Couple Goals
It's no secret that Blake Lively and Ryan Reynolds are crazy about each other. They are living, breathing puzzle pieces that just fit so, so well together. Everyone wants to see them, hear about them, and know them, and it's no mystery as to why. Both funny, amiable, and attractive people, the two have effortlessly fertilized a fanbase for their love. A big part of this comes from Ryan Reynolds' public displays of affection, gushing over his lovely wife in interviews and speeches. We might just receive an earful of compliments again soon if Blake Lively and Ryan Reynolds attend the Golden Globes. Will they?
If everything goes according to plan, then we should see the couple take to the Golden Globes carpet. Since Ryan Reynolds strutted his stuff in a red suit in Deadpool, his nomination will allow him to walk down the red carpet with his queen. According to Variety:
"'Deadpool' is the first live-action comic-book movie to score a best-picture nomination in the organization's 74-year-history, competing in the musical/comedy category. And Reynolds is in the running as a best actor nominee, following a prize at the Critics' Choice Awards last month."
Ryan Reynolds even credits Blake Lively for a part of his Deadpool success during an interview with ET Canada."I would characterize her as an invisible partner in this whole thing. She was so helpful with Deadpool and I bounced so many ideas off of her, and I worked with her with so many of the little nuances on the character," Reynolds raved. It's fantastic that he can pull support from his other half, and vice versa.
With Reynolds, Lively is practically married to Nicholas Sparks, and their passion for one another is likened to a non-fictional version of The Notebook. Seriously, he's so deep, casually dropping lines in interviews about her that make your heart skip a beat like: "The most interesting thing about me is her."
He's also very real, and a hands-on father figure. "You gotta do the diapers. You gotta do the middle of the night thing... A human being will exit your wife, so she's done enough. Just change the diapers and do all that stuff," he advised in a December interview on Late Night with Seth Meyers. He's not afraid to get his hands dirty if it means helping out his partner in crime.
Reynolds is clearly head over heels with The Shallows actress and appears to be there for her in every way a man can be. It's obvious why Lively would reciprocate such strong feelings for Reynolds — it's not a bad relationship when your hubby is your biggest fan.