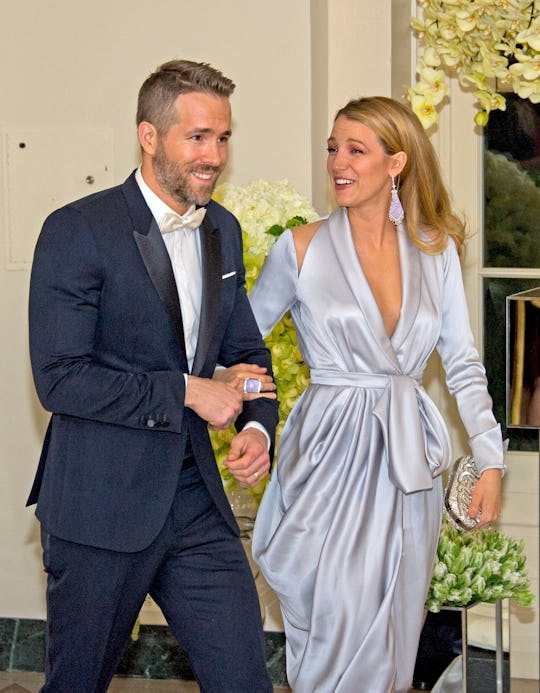 Pool/Getty Images News/Getty Images
Will Blake Lively & Ryan Reynolds Have More Kids? Lively Called The Couple "Breeders"
With the excitement of a second child on the way, celeb couple Blake Lively and Ryan Reynolds would be completely justified in quelling any rumors of future babies. I mean, both parents have gushed about the joys of parenting their 18-month old daughter, James, and Lively's adorable pregnancy bump has fans excited for news of their new baby. But will Blake Lively and Ryan Reynolds have more kids? The couple has certainly been open in the past about wanting a huge family. And, in a recent Today Show interview, the 28-year-old actress said that none of those plans have changed; the answer still seems to be a resounding "oh, yeah!"
According to an Us Weekly report, Lively appeared on the show on Monday to promote her new movie The Shallows. And, given the couple's enthusiasm for sharing funny parenting stories with fans on social media, the conversation naturally turned to the subject of parenting little James and whether the pair is looking to give her any more brothers or sisters. And the Gossip Girl star seemed pretty enthusiastic about the idea, according to Us Weekly:
Oh, gosh, yeah. I'm one of five kids, my husband is one of four, so we are officially breeders. You can go on our website, and we will give you some of our children.
Of course, that probably isn't a huge surprise to fans of the couple, as Lively has spoken in the past about wanting a huge family. In 2012, just after the couple married, Lively told Allure magazine that when it comes to kids, her attitude is "the more the merrier":
I've always wanted a big family. Oh, I'd love 30 [children] if I could.
Just after James was born, Lively shared in an interview with People magazine that, even with the shift that inevitably comes with becoming new parents, the couple was still planning to have lots of babies:
I do want to just enjoy this moment. But I also feel like my first child is going to be the oldest sibling to the next kid, and that may change with each and every year. I'm looking forward to how one baby influences the other, and to my family as a whole, to every single chapter.
Still, the notoriously private couple is likely to keep fans guessing about exactly when they might be expecting. The couple didn't confirm news of their second baby until well after Lively had been spotted with a growing baby bump while shooting her newest film. And not only did the family wait a full year to confirm the exact date of James' birth, they've quite carefully kept photos of her away from the press — though both parents have been more than open online about the ups and downs of parenthood.
Lively's due date for her second baby is still under wraps. But, it's exciting to know that this won't be the last bundle of joy for the happy couple. It looks like their plans for having dozens of amazing kids are proceeding right on track.