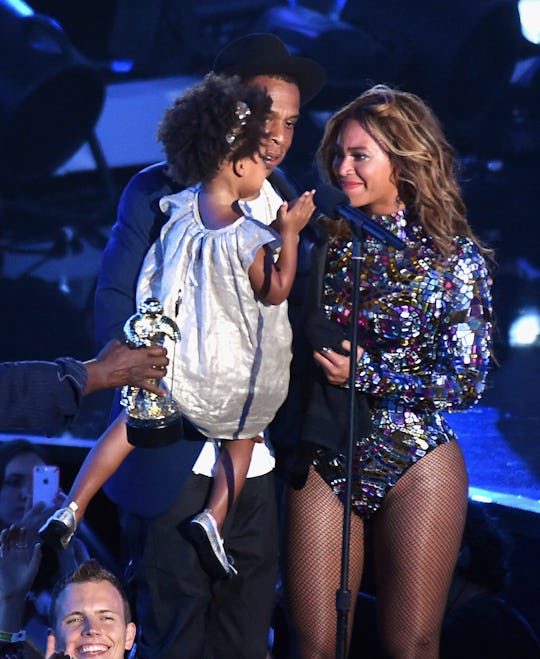 Michael Buckner/Getty Images Entertainment/Getty Images
Will Blue Ivy Be In Beyonce's 'Formation' Film? Her Fans Certainly Hope So
First, a heads up before Beyoncé fans get too excited: A "Formation" film is just the stuff of rumor and fantasy at this point. According to Nylon, however, a popular Beyoncé fan goup, the Beyhivé, claims that a new studio album and short film are on the way. Considering Beyoncé is a fan of surprises and watching the world go nuts after she drops unexpected content, I'm going to indulge the rumors for now and just ask the obviously important question here: will Blue Ivy be in Beyoncé's "Formation" film?
Considering that the short film is just speculative at the moment, details have not been forthcoming — including whether or not Queen Bey's adorable kidlet will be featured in the album's accompanying film. However, Blue Ivy did star in the music video for Beyoncé's "Formation," which could hint at a cameo in the short film as well, even if it's just outtakes from alternate "Formation" music video shots. (Again, I'm just speculating here, but hey, a girl can hope, right?)
Blue Ivy is way too cute to keep her off of something as big as an album film. Beyoncé certainly hasn't kept her daughter entirely out of the spotlight either — she's shared pictures of Blue Ivy on social media and has allowed her to take part in a music video and the 2014 MTV Video Music Awards, which is definitely a "cool mom" move.
So what can we expect from the "Formation" short film? The Beyhivé seems to strongly suggest filmmaker Kahlil Joseph is involved in Project Lemonade, having tweeted in February, "Beyoncé's album film is near. Be patient! Get familiar with Kahlil Joseph."
What else does the fan group have to say? Apparently, if the Beyhivé has gotten reliable information, the Project Lemonade album and short film have wrapped and will drop in April, according to Vice. Vice also suggests that the short film — if it actually exists — was filmed in New Orleans, which would make sense, since the music video included scenes shot there.
If the short film follows other "Formation" themes, fans can probably expect a more confrontational Beyoncé than they met in her last short film, Yours and Mine, which was fairly introspective. "Formation" — including the song, music video, and Beyoncé's Super Bowl performance — had some very strong political messages about police brutality, black culture, and identity. If a short film is indeed released, it would likely explore similar themes.
Project Lemonade may just be a rumor at this point, but it's one fans are crossing their fingers for. If it's true and Blue Ivy makes an appearance in the short film, be prepared. Fans' excitement might just break the internet.