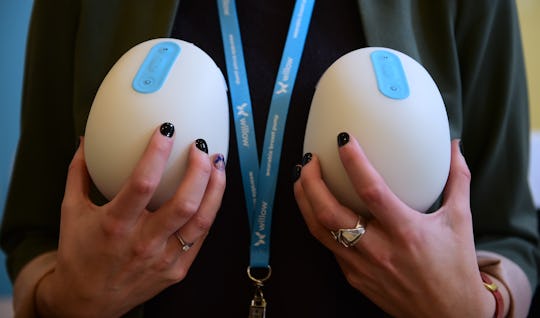 FREDERIC J. BROWN/AFP/Getty Images
How Long Will Will Insurance Cover Breast Pumps?
Senate Republicans are anxious to see the Affordable Health Care Act (informally known as Obamacare) repealed as soon as President-elect Donald Trump takes office on Jan. 20. The president-elect himself spoke of the repeal at a press conference on Wednesday, promising that Obamacare would be repealed and replaced "essentially simultaneously." But what does that mean for mothers? Will essential items like breast pumps be covered by insurance if Obamacare is repealed?
As of 2010, the Affordable Health Care Act required all health insurance providers to cover the cost of a breast pump. This was covered under the umbrella of women's preventative health services. Other health providers like Medicaid do cover the cost of breast pumps, but only in certain states. Under Obamacare, mothers are able to expect either a rental breast pump or a new one to keep (new electric breast pumps cost around $400). Different guidelines decide whether or not it will be a manual or an electric pump, if the mother will receive it before or after birth, and the length of the rental. If Obamacare is repealed, what will this mean for mothers who need breast pumps? Individual insurance providers could potentially go back to deciding on a case by case basis, with some insurance providers asking for prescriptions before agreeing to cover the cost of a breast pump.
If Obamacare is repealed by Congressional Republicans under the Trump Administration, it's unclear whether or not breast pumps will continue to be covered. Trump said at a press conference in New York City on Wednesday that he plans to repeal the Affordable Care Act as soon as Georgia Rep. Tom Price, his pick for Human and Health Services secretary, is approved by the Senate.
We're going to be submitting -- as soon as our secretary's approved, almost simultaneously, shortly thereafter, a plan. It'll be repeal and replace. It will be essentially simultaneously. Probably the same day, could be the same hour.
Price, much like Trump, has been an avid opponent of Obamacare, but hasn't had much to offer in the way of alternatives other than cuts to Medicaid, expanded high-risk pools, and the general defunding of Obamacare subsidies. It looks like grim prospects for mothers, especially mothers who need to go back to work and would like to continue breast feeding their baby.
For mothers who need a breast pump and don't have an insurance provider that covers the cost, there is a small glimmer of hope. The Special Supplemental Nutrition Program for Women, Infants, and Children (WIC) provides breast pumps to mothers who already receive WIC benefits.
Otherwise, the future for breast feeding mothers looks to be a vast unknown at this point.